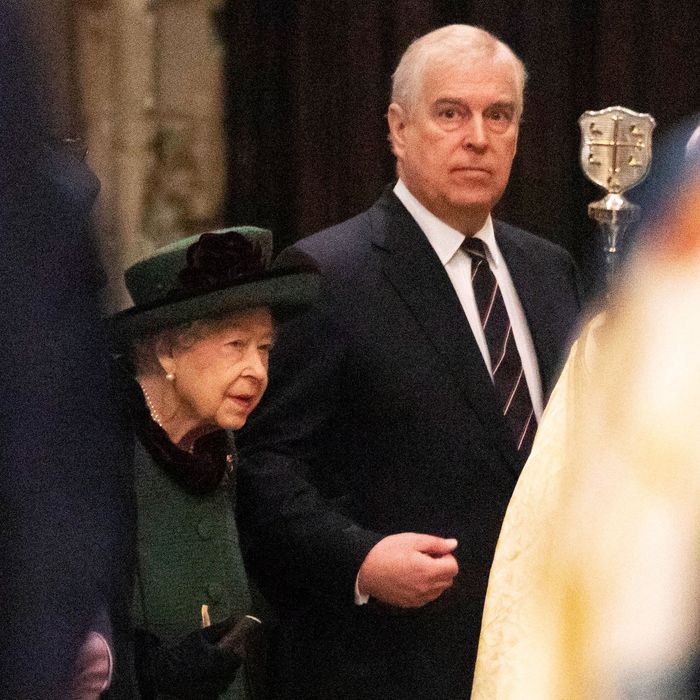 The queen and Prince Andrew.
Photo: Richard Pohle/POOL/AFP via Getty Images
Spotted through the thicket of bishops and royals assembled for Prince Philip's memorial service this week: his disgraced son, Prince Andrew, on the queen's arm. According to People, she "insisted" that her second — and, reportedly, favorite — boy walk her into Westminster Abbey for the ceremony on Tuesday morning. Due to recent health issues (a bout of COVID, problems with mobility), the queen's decision to attend the service, marking the almost anniversary of her husband's death, came down to the wire. But in the end, Andrew escorted her through a side door, allegedly to spare his mother a long walk up the Abbey's center aisle but possibly also because he destroyed his reputation carousing with a known sex offender.
Earlier this month, Andrew — or, more probably, the queen herself — paid a hefty sum to settle his rape case with Virginia Roberts Giuffre, who says Jeffrey Epstein trafficked her to the prince when she was a minor. According to Giuffre's lawsuit, Andrew raped and sexually assaulted her on several occasions, and though he has strenuously denied the allegations, he has done an embarrassing and unconvincing job of it. After a 2019 BBC interview, in which he offered up his attendance at a child's pizza party and his purported inability to sweat as reasons why he could not have abused Giuffre, he resigned from his official duties — a decision he framed as voluntary but which palace sources said came as an order from Mother. She has since revoked his HRH and military titles, while Andrew (seemingly at the urging of the royal family) has largely receded from public view.
Despite all that, royal commentator and biographer Robert Jobson told People, the queen's decision to make an entrance with Prince Andrew does actually "make some sense." Andrew, Jobson pointed out, "doesn't have a partner." But more than that:
A settlement has been paid but he's guilty of nothing in the eyes of the law. She has faith in Andrew. Even if he disappears from public life, he's been able to pay tribute to his father, who after all, was very proud of his service in the Royal Navy, where he fought in the Falkland Islands conflict.
Which, yes, I can see why a person might want to pay respects to their dad, though it seems to be the way Andrew did it that irked people. While the Daily Mail has pegged blame on the prince himself, reporting that he actually "INSISTED" on the honor to the "regret and consternation" of Princes Charles and William, the queen enjoys ultimate veto power in every royal scenario. Whether she indulged Andrew or tapped him herself, the message reads the same way. BBC News royal correspondent Peter Hunt called the escort appearance "rehabilitation on speed," noting that his position — by his mother's side and at the front of the service — felt extra visible, even compared to other members of his family. For Hunt, the queen's apparent support of her second son looked like a possible sign of things to come: "If he can escort his mother at such a high-profile event, why can't he unveil a plaque?"
Epstein's victims interpreted the gesture similarly. Maria Farmer, whose younger sister testified against Andrew's buddy, Ghislaine Maxwell, told the Daily Beast that, in addition to being "terribly insulting," the spectacle risked "normalizing" sexual abuse. "This group is so accustomed to doing whatever they want to whoever they please," she said. Another survivor, Juliette Bryant, went further. "It's not just an insult to the victims — it's a complete insult towards humanity," she told the Daily Beast. With apparent regards to the royal family, she continued: "They obviously feel nothing for all the pain they have caused. But then again haven't they always done as they pleased?"
Initially, Jobson said the queen's selection of Andrew as her squire showed she "wholeheartedly loves and believes her son. As she did when she made a statement about Camilla being Queen Consort, many people will now accept the queen's word and judgment." Not the way things are shaping up so far, but then, it's a slightly different situation, I think.
This article has been updated.