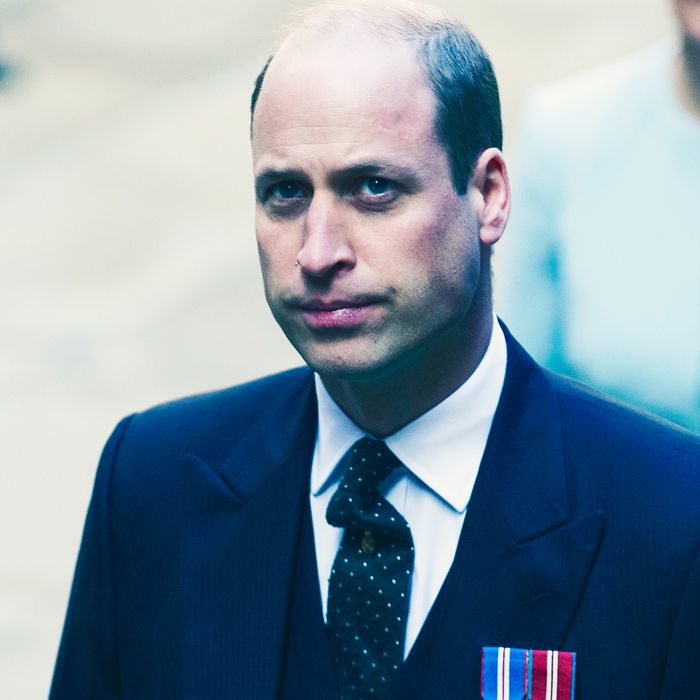 Photo: Jane Barlow/WPA Pool/Getty Images
Prince William, who has given us such classic hits as "we are very much not a racist family" and typing on a typewriter like this, appears to have put his foot in his mouth once again.
On Wednesday, he and Duchess Kate Middleton visited the Ukrainian Cultural Centre in London to sort donations and show solidarity with Ukrainians amid the Russian invasion. Pretty standard royal-press-appearance behavior. Then, while speaking about the destruction in Ukraine, Prince William made a comment that has since received backlash for being unnecessary and tone-deaf. (Unfortunately, this is also historically typical of the royal family.)
"Everyone is horrified by what they are seeing. The news every day, it's almost unfathomable," he said, as captured on video and according to the Independent. "For our generation, it's very alien to see this in Europe."
It was initially misreported that Prince William implied this type of violence is more typical in Africa and Asia. That has since been retracted, but the implication that war is a rarity in Europe overlooks the continent's recent history.
I suppose war is alien in Europe if you don't count the Troubles in Northern Ireland that spanned from 1968 until 1998. And the Yugoslav wars during the 1990s. And the annexation of Crimea in 2014. And, as multiple people have pointed out on Twitter, the royal family's own history of colonialism and the violence that comes along with it.
Unfortunately, Prince William is not the only person shocked to see such violence happening to, uh, European people. On a recent episode of The Daily Show, Trevor Noah showed a compilation of reporters aghast by the invasion of a "relatively civilized" country. Many insisted this is the kind of violence you'd expect of Africa or the Middle East but, as one pundit put it, "these are Europeans." Hmm, I can't qwhite put my finger on what they are insinuating.
The situation in Ukraine is devastating, but it's disappointing to see people make ignorant statements while expressing solidarity, especially when the same people and institutions have ignored similar suffering elsewhere. Neither Prince William or Kensington Palace has responded to the backlash, but I'm very much not expecting a satisfying or self-aware reply.