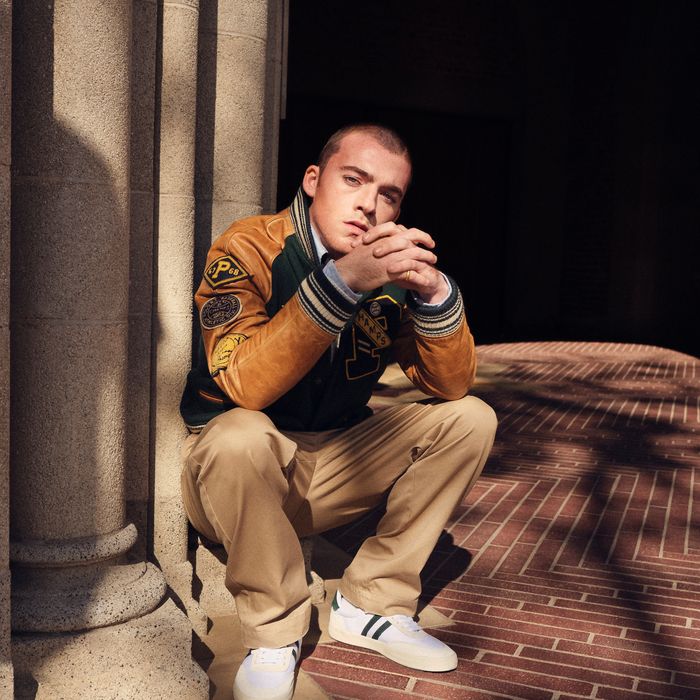 Photo: Ralph Lauren Fragrances/
Angus Cloud is notoriously himself in interviews, often lying about his Twitter use and saying uncanny things, like naming Shrek as his favorite rom-com. While the world loves to see a newbie rise to fame, the Euphoria star has had a huge year with the show's second season, filming a movie in Oklahoma, sitting front row at New York Fashion Week — and being named the new face of Polo by Ralph Lauren Fragrances. Fifteen minutes of chaotic Angus Cloud energy is like a spicy spring breeze, and I loved every second of it.
Brooke LaMantia: Can you describe what the Polo Fragrances smell like to you? 
Angus Cloud: They smell classy. Like a gentleman.
I know there's a Polo Red, a Green, a Blue. Do you have a favorite? 
Depends on the mood.
Which are you wearing right now? Like do you have a go-to? 
I'll throw on some Green, some Blue, some Black.
You throw it on? How do you put it on, like your wrists or your neck? 
I just fucking spray a cloud and walk through like a G, you know? It feels like you get it all around.
Totally, I do that too. How did you feel watching the Euphoria season finale? 
It was pretty emotional.
I heard that Fez was supposed to die instead of Ashtray. Do you know why they changed that?
That's a good question.
So you don't know? 
No. They wanted it to be the most dramatic thing, I guess.
People always say that you're Fez in real life. 
What happened in real life?
People always say you're just like Fez. Are there any frustrations there? 
I don't care. I just tell people in real life, "What's up? That's not my name."
How did it feel to be the hottie of season two?  
The what now?
The hottie. You must have seen the tweets. 
I don't use Twitter, for real. I don't know what you're talking about.
Hm, okay. 
It didn't bother me.
Did it feel nice? 
Sure, yeah. It's cool. I still look the same as I always did so it's strange that all of a sudden everyone is like, "Oh, this guy is so hot." You wouldn't have said that shit about me if I wasn't on TV, you know? If I was just some random dude on the corner, you wouldn't just put me up on Instagram like, "Look how hot this dude is."
So you're telling me that you didn't have girls following you around before Euphoria? 
I mean …
We have to ask about the Cheetos. Do you always have emergency snacks on you? 
Yeah. They're ready so I gotta get ready, you feel me?
Where do you carry them? 
I keep them in my waistline.
They don't get smashed? 
Depends on the snack.
What's your go-to snack? 
A Slim Jim.
Do you believe in any conspiracy theories? 
Sometimes. If you watch YouTube, they're pretty convincing.
Do you believe in aliens?
Probably. They might be disguised as humans.
What are you doing now that Euphoria is over? 
Trying to get a new job. Nah, I've been working on a ton of different stuff.
A horror movie, right? 
Yeah, but it wasn't a monster or alien horror movie. It wasn't too far gone.
What did you have for breakfast today? 
I didn't eat breakfast. I had Rice Punch. It's Korean.
Oh, like those smoothies? 
No. It's like rice water but it's sweet.
Isn't it like 2 p.m. in L.A.? What are you going to eat? 
I don't know, maybe an orange.
That's fair. Well, that's our time. I hope you find that orange later.
For sure. Thanks, my friend.