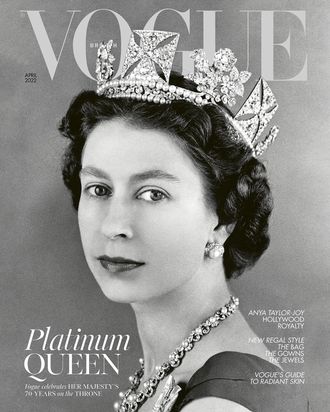 Photo: Antony Armstrong Jones/VOGUE
Queen Elizabeth is getting ready to celebrate her Platinum Jubilee — 70 years wearing the crown. It is, to put it mildly, a big deal, and to celebrate the historic event, British Vogue has decided to finally give the monarch her very own cover. But, there's a catch. The Queen is getting her first British Vogue cover… that she also has to share with Queen's Gambit actor Anya Taylor-Joy. I assume Claire Foy, Olivia Colman, and Helen Mirren were busy?
One would think that, as Britain's longest-reigning monarch, Queen Elizabeth might be worthy of her own Vogue cover, but, I suppose, what's a Queen without her chess set? British Vogue explained the connection between the actor and the Queen while debuting the covers on Instagram. "To commemorate a special Jubilee year, #BritishVogue's April 2022 issue offers its own platinum salute," reads the caption. "In a playful echo of Her Majesty The Queen, actor of the moment Anya Taylor-Joy wears a diamond diadem replica for her own fantasy dress-up moment as fashion's punk princess."
The diadem in question is the George IV State Diadem, a one-of-a-kind royal crown originally made in 1820 that the Queen wore in the 1957 Anthony Armstrong-Jones portrait used for her cover. The Queen has reportedly only worn the diadem on very rare occasions, including the State Opening of Parliament in 2019, and, now, her Vogue cover debut.
In addition to the "punk princess" ode to the Queen, this issue of British Vogue will also feature "rarely seen images from the archive at Vogue House," to honor the Queen's Platinum Jubilee.