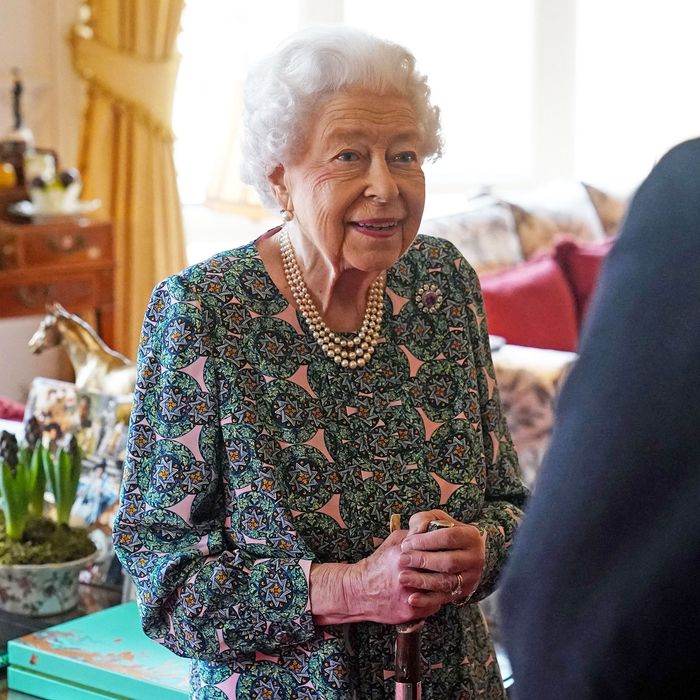 Queen Elizabeth, alive and back at work.
Photo: Steve Parsons/POOL/AFP via Getty Images
Death hoaxes and coronavirus be damned. On Tuesday, Buckingham Palace announced that Queen Elizabeth II has once again returned to work. Neither global pandemics nor internet conspiracies can keep her down!
There were concerns about the queen's health after she tested positive for COVID-19 on February 20, which escalated after rumors that she had died started circulating online last week. Those rumors, of course, turned out to be false, as the queen is still very much alive. Per the New York Times, she's now feeling well enough to resume her royal duties, which includes virtual engagements.
Despite turning 95 last year, the queen herself has said that she is famously young. Last year, she turned down the award for Oldie of the Year, citing that she does not meet "the relevant criteria" in order to qualify for the award. So there! And as a spry youth, she is perfectly capable of doing queen shit like celebrating her Platinum Jubilee, which marks her 70th year of royal service. Only someone as young as the queen would be up for a celebratory jubilee post-COVID!
Though I am happy the queen is feeling better, I am disappointed that she did not milk her illness for all its worth. I, a peasant, felt justified sleeping for a full day after merely getting the COVID vaccine. Health scares aside, I think we can all agree on one thing: The queen should not have to do silly little Zoom calls.