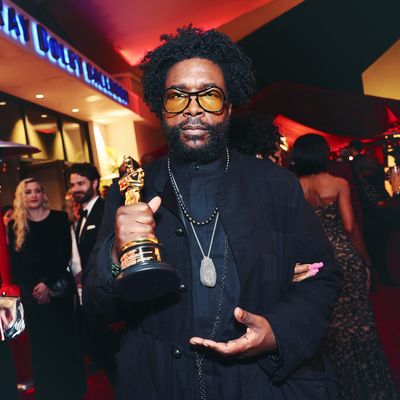 Photo: Emma McIntyre/Getty Images
Endless discourse aside, one thing everyone can agree on about Will Smith slapping Chris Rock at the Oscars is that it cast a huge shadow over Questlove's Best Documentary Feature Oscar win. The Roots drummer and director of Summer of Soul took home the award literally moments after the slap, while the crowd was still wondering if what they had just witnessed was real or a stunt.
Questlove himself didn't seem bothered by the hubbub that preceded his win. He accepted a big hug from Smith as he approached the podium and went on to give a heartfelt speech, getting emotional when mentioning his mother, who was in the audience. He didn't mention the slap or the weird vibe that followed at all. And now we know why: He missed it! "I've been meditating for the past couple years," Questlove explained during an interview on The Tonight Show With Jimmy Fallon. "And when the commercial break happened, I was in my 'Mmmm.' So when I opened my eyes, I didn't realize." He added that he slowly recognized the slap must have been real. "As I'm walking to the stage, I'm kind of putting two and two together, and I realized that was a real moment, like, maybe three seconds before I spoke words. But in my mind, they were just doing a sketch or whatever."
I have never been so jealous of another human. I wish I had been meditating at the time of the slap. Don't we all? Imagine the sheer bliss this man must have felt in that one moment of ignorance! Just picture the peace he felt as we were all spiraling into an oblivion of hot takes. What a dream!