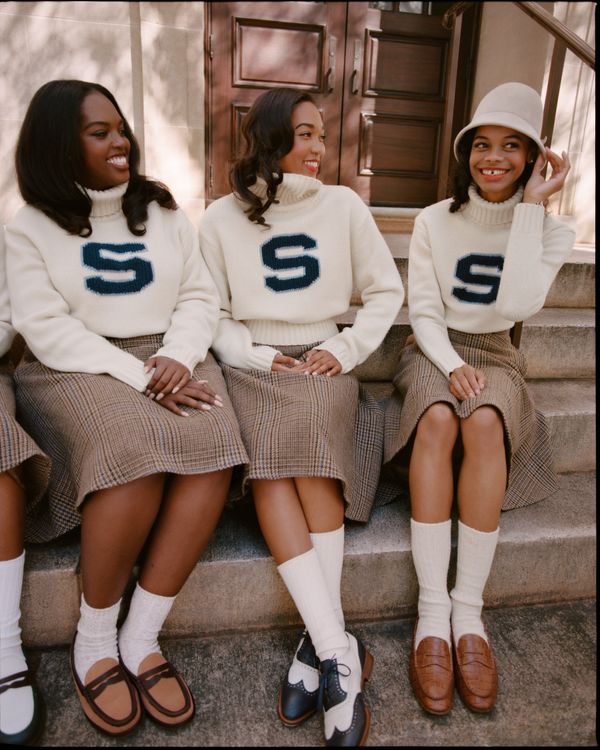 Photo: Nadine Ijewere/Polo Ralph Lauren
What is it?
Ralph Lauren has teamed up with alumni from Morehouse and Spelman colleges to created a limited-edition collection inspired by the two HBCUs and their history. The collection features an all-Black cast and creative team on set with campaign images, shot by photographer Nadine Ijewere, that look as if they're pulled from a vintage yearbook. There's also a film, directed by Joshua Renfroe and shot by Azariah Bjørvig, on the historical significance of HBCUs.
Do I need this?
If your style leans toward collegiate, old-school Americana, you'll definitely find something here. The collection features cable-knit sweaters and cardigans, blazers, pin-striped suits, plaid skirts, and more. Then there are, of course, pieces with historical significance, like maroon Morehouse blazers and white dresses students often wore to the school's induction ceremony. For anyone whose style is a bit more casual, there are "Spelman"-emblazoned crewnecks and varsity jackets in the school's colors. From the looks of the campaign images, the collection is pretty wearable and versatile even if neither school is your alma mater. If you are an alum of either school, you can shop the collection a day earlier.
What are people saying?
Not everyone is onboard with the historically Black colleges collaborating with the brand. Tweets about the collaboration have included some who see it as pandering and others who are wary about the "civil-rights era" aesthetic from a white-owned brand, especially when they believe other eras would have been just as appropriate. As fashion and costume historian Shelby Ivey Christie notes in a tweet, centering the collection on an era like the 2000s, in which Polo Ralph Lauren was the unofficial uniform of HBCU homecomings, would have made sense. Others have noted that the '80s and '90s, in which the fictional HBCU Hillman from A Different World caused a spike in HBCU enrollment, would have been fitting eras as well.
The collection of preppy suits, cardigans, and skirts is in line with Ralph Lauren's aesthetic and brand identity, which is largely preppy. The collection was in fact inspired by images from the schools' archives going back as far as the 1920s. Robin Givhan, fashion critic and senior critic–at–large for the Washington Post, writes, "Like all garments, they're an expression of identity. But these are, most importantly, an enduring declaration of belonging."
The general consensus is that Spelman and Morehouse alumni aren't the only ones who want to get their hands on this collection.
To answer a question many have asked regarding proceeds, the Ralph Lauren Corporate Foundation has given a $2 million grant to "support students at Morehouse College, Spelman College and 10 additional HBCUs through UNCF," per a press release from the brand.
How do I get it?
The full collection will be available on March 29 at ralphlauren.com, and if you're a student, faculty member, or alumnus, you can shop early access on March 28.