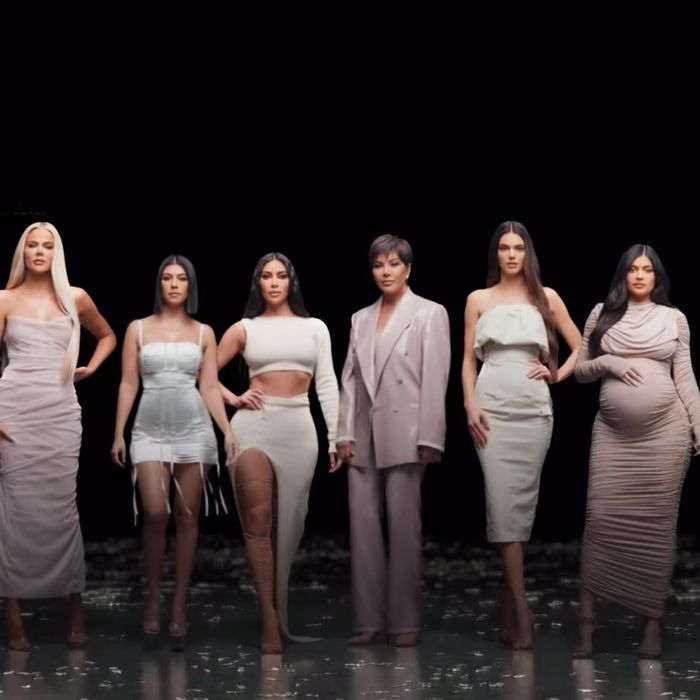 It's been eight months since the 14-year run of Keeping Up With the Kardashians came to an end, only for the family to announce they were moving to Hulu to film what sounds like pretty much the same show. The Kardashians will premiere on April 14, and from the looks of the trailer, there is a lot going on. Maybe too much?
The Kardashian-Jenners are back to doing what they do best: addressing public controversy by filming the minutiae of their own lives. But it's hard to deny that this current round of rehashing feels particularly dark. In the trailer, Kylie discusses her recent pregnancy; it's not clear whether the show will address her relationship with the baby's father, Travis Scott, in the aftermath of the Astroworld tragedy. Meanwhile, Khloé seems to be trying to co-parent with her ex Tristan Thompson, who, in the wake of a paternity lawsuit, recently confessed to fathering a third child while he and Khloé were dating.
And then there's the Kimye of it all. Ye makes a cameo in the trailer followed by a snippet of Khloé asking why they're "making excuses for the people that traumatize us." According to Variety, Ye is expected to appear in scenes he filmed before his divorce with Kim became contentious, which, given recent headlines, is certainly a choice. Though Kim has said her new boyfriend, Pete Davidson, won't be in this season, he is present via vibes: One scene shows Kim giggling as a producer asks, "Who are you texting? Does his name rhyme with feet?" Next thing you know, Kris is quoting The Godfather. "Never go against the family," she declares shortly after Kim tells someone on the phone, "We have all the time and all the resources to burn them all to the fucking ground." Given that they do have all the time and resources, those threats sound a little more sinister than reality TV should.
Amid all this chaos, there is at least one bright spot: Kourtney reveals she and her fiancé, Travis Barker, are trying to have a baby (before announcing they are turning off the cameras so he can presumably jack off into a cup). Still, I miss the days of watching this family melt down over frivolous dramas such as a lost earring or tiny sunglasses. Even with more goth art to look forward to, the new season looks a whole lot less fun.