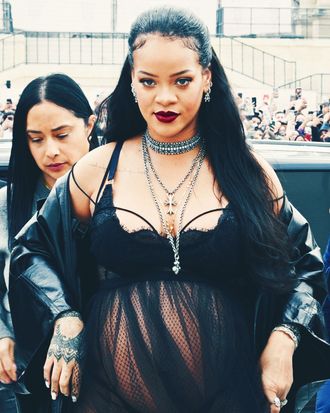 Photo: Stephane Cardinale - Corbis/Corbis via Getty Images
No one is doing pregnancy like Rihanna. But are we surprised? No one is doing anything like Rihanna. On Tuesday, she graced Paris Fashion Week with her presence, attending the Dior show in what can only be described at hot, goth lingerie.
I can't imagine approaching anyone wearing knee-high boots and tiny black lingerie and asking them anything other than "Would you do me the honor of punching me in the face?" I especially can't imagine doing this to a lingerie-clad, very pregnant Rihanna. However, someone at the show apparently had more audacity and less shame than I do.
According to Tim Blanks, author and Business of Fashion's editor-at-large, someone asked Rihanna, "Boy or girl?" referring to the gender of Rihanna's baby with A$AP Rocky. "That was the wrong question to ask Rihanna while the boom mikes of the fashion world were eavesdropping over our heads," Blanks wrote on Instagram alongside a picture of Rihanna's reaction. Her face speaks for itself:
If Rihanna looked at me this way, I would disintegrate. I would cease to exist. I'd be erased from my family's tree and never spoken about again. My condolences to whoever asked Rihanna about her baby's gender as I'm sure they immediately evaporated into a cloud of embarrassment.
Apparently, the attendees of Paris Fashion Week really had the audacity because when Rihanna arrived at the Dior show, a few people in the crowd shouted, "You're late!" A rude way to greet a queen. She responded impeccably, with an expressionless "No shit."
Let this be a lesson to us all: If you ever think about asking anything of Rihanna, simply don't!