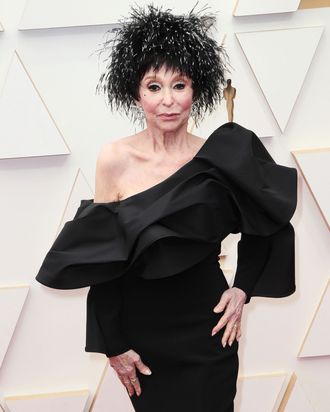 Photo: David Livingston/Getty Images
Rita Moreno has been going to the Oscars for 60 years, so she knows a thing or two about red-carpet attire. Specifically, red-carpet hats. Moreno, who returned to Steven Spielberg's West Side Story remake in a new role after her Oscar-winning 1961 turn as Anita in the original, topped off her structural Carolina Herrera gown with a truly explosive headpiece that seems to be made mostly of black and white maribou feathers. She succinctly informed E! that the hat is from "from France," which of course makes it infinitely more chic.
How did this feather bomb end up on Moreno's head, you ask? In her words, she thought, "What the hell?" and simply threw it atop her head. "I just put on a black wig underneath," she continued, talking to Laverne Cox who hosted the the E! Live from the Red Carpet special, "'cause I thought, what the hell?" She then pointed to an iconic little fake mole on her face, saying, "And then I put on this little thing, 'cause I thought, what the hell?" What the hell indeed, Rita.
It was from under this phenomenal hat that Moreno described the movie she's currently filming, which I refuse to believe is real. "It's Tom Brady's first project apart from his football career," she said, and apparently, joining her alongside a non-retired football star are "Jane Fonda, Lily Tomlin, and Sally Field." Shockingly, this is indeed a real movie.
Anyway, if you have any thoughts on Moreno's headwear or general appearance tonight, so what. She doesn't care. "I love the way I look," she told Cox. She continued, saying "Hello gorgeous!" to herself while mugging for E!'s camera. "I can't get over myself. I love the way I look. Kill me. Sue me." I can't get over her either. Kill me, sue me.