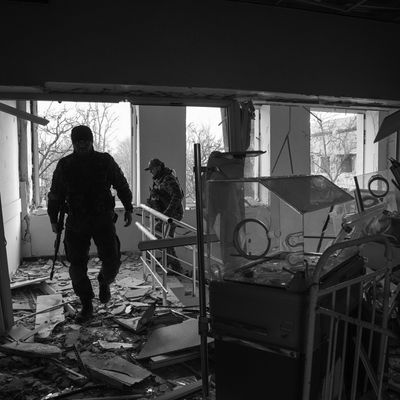 Photo: Evgeniy Maloletka/AP
On Wednesday, Russian forces dropped multiple bombs on a maternity and children's hospital in Mariupol, Ukraine, violating a cease-fire meant to give civilians safe passage out of the city. According to city officials, three people have died, including a child, and 17 patients and health-care workers were injured — one of them a woman in labor.
Mariupol, a port city on the southeast coast of the country, has been under siege for more than a week, and conditions are rapidly deteriorating. Ukraine's foreign minister, Dmytro Kuleba, wrote on Twitter that over 400,000 people — including 3,000 newborn babies — are currently being held hostage, with Russian forces blocking food, water, electricity, and medical care while shelling the city.
The attack on the hospital is a direct violation of a cease-fire announced earlier on Wednesday, when Ukraine's deputy prime minister, Iryna Vereshchuk, said both countries had agreed to halt their attacks between 9 a.m. and 9 p.m. to give civilians in Mariupol and other cities in Ukraine time to evacuate. Russian forces were supposed to clear preordained paths shuttling those civilians to safer Ukrainian cities, but when the cease-fire began, some cities reported that the Russian military was still blocking the evacuation corridors. Asked for comment on the hospital attack, Dmitry Peskov, a spokesman for the Kremlin, told Reuters, "Russian forces do not fire on civilian targets." Yet the U.N. has verified 516 civilian deaths across Ukraine and said it believes the real number is much higher.
Ukraine President Volodymyr Zelenskyy posted a video taken inside the hospital's wreckage, stating that children were trapped under the rubble and calling the bombings an "atrocity." He also begged NATO's military alliance once again to declare a no-fly zone over Ukraine. The organization has repeatedly refused to impose a no-fly zone, warning that it would put the 30 countries in NATO in direct conflict with Russia and require them to send in their own planes to fight Russian aircrafts.
The World Health Organization has verified that Russian forces have attacked 24 health-care facilities in Ukraine since they invaded on February 24, despite the fact that the organization has called for "an immediate halt to attacks on health care, hospitals, health-care workers, and ambulances." According to the WHO, 12 people have died from those attacks, at least two of them health-care workers. Elsewhere in the country, two hospitals in Zhytomyr were bombed by Russian forces on Wednesday, one of them a children's hospital. The city's mayor said that everyone was in bomb shelters and there were no casualties. A spokesman for the U.N. said that the alliance would follow up "urgently" on the "shocking reports" regarding the bombings.