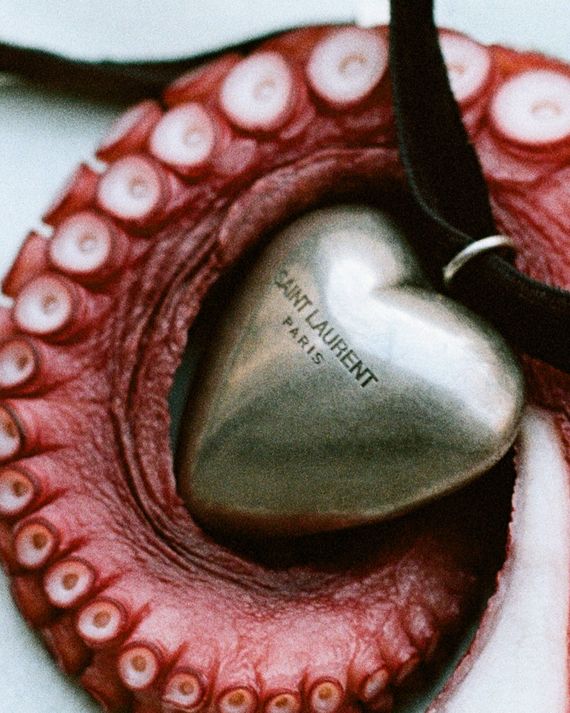 The puffy heart has carried weight from the 1980s onwards. There is the Taxco version hammered away in the Mexican town; Elsa Peretti's nature-inflected, sculptural take; Christian Lacroix's chunky, drippy, ornate version; and Mondo Mondo's, embellished with pearls and glistening faux-jewels. This spring, Saint Laurent entered the chat with its own puffy heart made of brass and dangling from the end of a velvet collar.
The season's collection was an ode to Paloma Picasso who played a pivotal role in Saint Laurent's evolution as a designer — she encouraged him to take more risks. Her personal style melded traditionally masculine and femimine staples, often finished with a choker of some sort. In Saint Laurent's spring lookbook, this necklace is styled with a feathered tube dress and heavy boots, lightening the mood of an otherwise serious look. "She projected a glamorous toughness," Anthony Vacarello, the label's creative director, told Vogue shortly before the show, "and it was a way for her to move through the world and hold her own."
Made in Italy, the necklace is abundant in size — 35 CM by 13.7 CM wide — and weighty in feel. It's not all about scale though, as the pendant is under half an inch at its widest point. Tiny but plump, it carries a lot in a little — just like the hearts that beat within us, and this one is only slightly less valuable at $550, available for preorder.
Every product is independently selected by our editors. Things you buy through our links may earn us a commission.