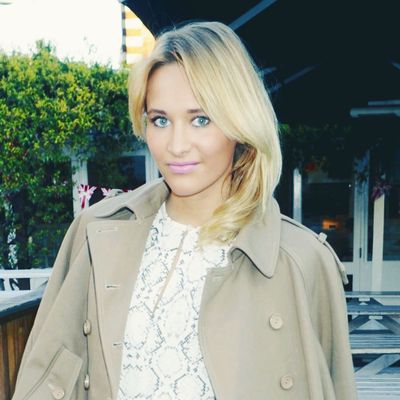 Photo: Stephen Coke/Shutterstock
For weeks, countries around the world have protested Russia's invasion into Ukraine with an array of economic sanctions: They've come for luxury goods, banned flights, and imposed restrictions on oligarchs associated with Putin. Now they're sanctioning Russian influencers.
On Thursday, 26-year-old Polina Kovaleva was added to the U.K.'s growing list of sanctions against individuals, according to the U.K. foreign secretary. Kovaleva — the daughter of Svetlana Polyakova, allegedly a long-term partner of Russian foreign minister Sergey Lavrov — has lived a luxurious lifestyle in London since moving there to attend school, buying a $5 million property in 2016. While Lavrov — a Putin insider who argues Russia is merely trying "denazify" Ukraine — has already been sanctioned in several western countries, British Parliament members have been demanding Kovaleva's sanction for weeks.
Kovaleva and Polyakova first became subject to public scrutiny in 2021 after a series of investigations alleged that Polyakova had been dating Lavrov since the aughts and that the women were part of his secret "second family." On her now-deleted Instagram, Kovaleva built a following around her glamorous London lifestyle. Russian journalist Maria Pevchikh, who has reported on Polaykova and Kovaleva, recently tweeted photos from Kovaleva's Instagram that show her traveling to villas, playing tennis, and lounging on a yacht.
Earlier this month, the U.K. sanctioned several oligarchs with ties to the Kremlin, which renewed scrutiny of Kovaleva. The U.K. Foreign Office maintains that its measure against Kovaleva "sends a strong signal that those benefiting from association of those responsible for Russian aggression are in scope of our sanctions." And the U.K. isn't the only country to recently take action against influencers: The U.S. also sanctioned Elizaveta Peskova, the daughter of Putin's press secretary. In an interview, Peskova told Insider she is "for peace" and that the sanctions against her are "totally unfair and unfounded."
As a result of the sanctions, Kovaleva will be banned from traveling to the U.K., and all her British assets have been frozen. And it looks as if she won't be able to influence from Russia: The country banned Instagram earlier this week.