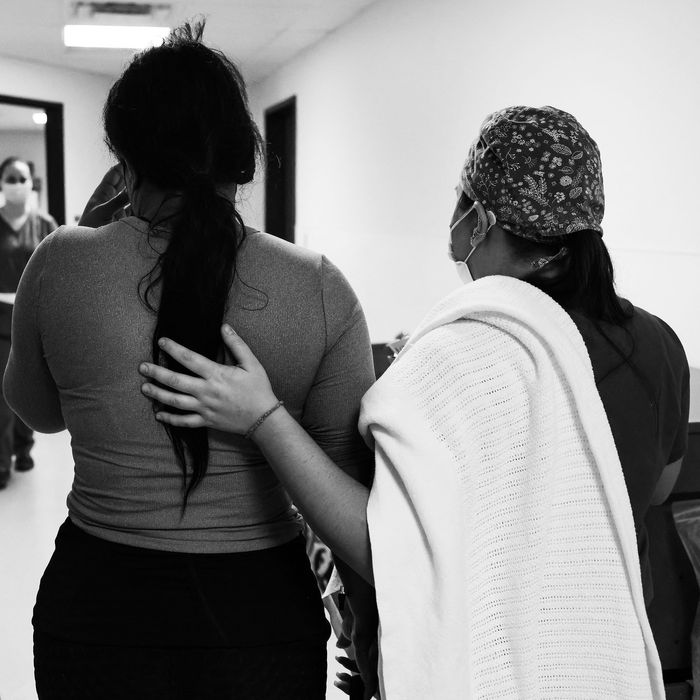 Photo: Evelyn Hockstein/REUTERS
During the past six months, Kathaleen Pittman has often noticed some of her staff at Hope Medical Group for Women in Shreveport, Louisiana, are on the verge of tears. Every day, more and more patients reach out hoping to schedule an abortion at one of the state's three remaining clinics, and the one closest to the Texas border. And every day, the employees who answer the phone have to tell callers — who are already frustrated by having to plan around a 24-hour waiting period that forces them to book two appointments — that the clinic may not be able to fit them into its schedule because of overwhelming demand.
"We're compassionate people. Hearing these women, who are so afraid and so upset, has certainly taken its toll on the staff," says Kathaleen Pittman, the clinic's administrator. She's been working at Hope since 1992, when she started as a part-time patient's advocate. Over the past three decades, she's witnessed a full-scale assault on abortion access in Louisiana: TRAP laws, a 20-week ban, mandatory waiting periods, a prohibition on telemedicine, and requiring parental consent for minors. And yet, Pittman tells me, "Never have I been so afraid of what's happening."
SB8, which effectively banned abortions in Texas when it took effect six months ago, has created an unsustainable demand for abortion services in nearby states that haven't yet enacted such draconian legislation. Desperate patients with enough resources to travel have been fleeing to clinics in surrounding states, including New Mexico, Oklahoma, Colorado, Kansas, Arkansas, Missouri, and Louisiana. Several of those states are pretty hostile to abortion care themselves. According to a recent report, around 1,100 Texan patients sought care in Planned Parenthood centers in nearby states between September 1 and December 31, 2021, compared to just 50 in the same period in 2020 – an increase of nearly 800 percent. Pittman says that before SB8, about 18 percent of patients at Hope Medical Group came from Texas; she puts that number at closer to 64 percent now.
Pittman says the increase in demand means that Hope Medical Group sees fewer patients in the early stages of their pregnancies, presenting a major complication for a small clinic that terminates pregnancies up to 16 weeks of gestation. Many patients drive several hours to Hope Medical Group to get their procedure on a good day; during the recent winter storms that hit Texas, Pittman says some people drove to the clinic through dangerous road conditions. "They know if they can't come, it may be some time before we can reschedule," she says. Often, staffers tell patients on the pages-long waitlist to sit tight, because they might get a call back if there's a cancellation or if someone reschedules. In the worst cases, staffers have to tell patients that they'll run out time before the physicians at Hope can see them. They refer those patients to other clinics that are operating in a similar state of emergency.
Having an abortion is already prohibitively expensive for many people. The cost ranges on average from $500 to $3,000, depending on the stage of pregnancy. And that doesn't account for the cost of taking time off work, finding child care, or booking a place to stay to accommodate mandatory waiting periods, which can be between 24 and 72 hours, depending on the state. After SB8, the average round trip to a clinic for patients seeking support from the nonprofit Fund Texas Choice ​​​​increased from 807 miles to 1,160 miles, which is about a 19-hour drive. These hurdles put abortion out of reach for many Texans, 13.4 percent of whom live below the poverty level.
Those who can't travel have either continued their pregnancies or considered self-managing their abortion. Aid Access, a nonprofit that mails mifepristone and misoprostol to patients, had received nearly 11 requests per day from Texans seeking abortion medication between October 2020 and May 2021. A recent report found that in September, that number increased by 1180 percent to about 138 requests per day. Requests for abortion medication from Texans have since declined, but remain about 173 percent above the pre-SB8 baseline. 
The Texas measure outlaws abortion once fetal "cardiac activity" is detected — which happens at around six weeks, well before most people know they're pregnant — and doesn't include exceptions for rape or incest. This arbitrary deadline violates Roe v. Wade, the Supreme Court decision that determined states can't restrict abortion before viability, which experts say happens at around 23 or 24 weeks. But SB8 doesn't have the state government prohibit abortion care. Instead, it offers a $10,000 minimum reward to vigilantes who sue anyone they suspect of "aiding and abetting" an abortion after six weeks, forcing clinics to stop offering care at that point (or altogether) if they don't want to face devastating financial consequences. Foreshadowing what we could expect out of the latest legal challenge to Roe, the Supreme Court has chosen not to interfere with SB8.
In just the first month after the law took effect, the number of abortions in Texas dropped by 60 percent, according to data recently released by the state's Health and Human Services Commission. The ban has been particularly devastating for teenagers seeking abortion care, said Rosann Mariappuram, executive director of Jane's Due Process, a nonprofit that helps teens access abortion and birth control. Texas, which emphasizes abstinence in sex education classes, has one of the highest teen birth rates in the nation. In September, there was a 67.7 percent decrease in the number of abortions for patients between the ages of 12 and 19, according to the state health data. Mariappuram estimates that the abortion rate for teens has dropped between 75 percent and 90 percent in the months since.
SB8 has been such a runaway success for abortion opponents that conservative lawmakers have introduced copycat versions in Alabama, Arizona, Florida, Missouri, Ohio, and Oklahoma. Those measures have moved forward in two states currently serving as a refuge for Texan patients: Missouri's HB1987 is in committee, and Oklahoma's SB1553 is heading to the state Senate for further consideration. If any of these measures become law, clinics in the South and Midwest will face further strain, limiting access to abortion care to those who can shell out thousands of dollars. "What is happening in Texas should be a great warning for the rest of the country," says Marc Hearron, senior counsel at the Center for Reproductive Rights. "This is a preview of what will happen on a much larger scale if Roe falls. It's now on Congress to act and do what the Supreme Court will not."
But on Monday, the Women's Health Protection Act, which would enshrine the right to an abortion in federal law, fell 14 votes short of the 60 votes needed to be considered in the U.S. Senate. Without that protection, abortion access is left up to a Supreme Court with a conservative supermajority that is itching to overturn a 49-year-old precedent. Louisiana is one of 12 states where abortion would automatically become illegal the moment Roe falls, but the staff at Hope Medical Group tries not to think about it. "Not knowing what's going to happen in a few months is frightening. But in order to maintain our sanity, we are forced to compartmentalize. We can't focus on what's going to happen in order to take care of our patients," Pittman says. "All the patients we see deserve better than what Texas has done."
Additional reporting by Brooke LaMantia.