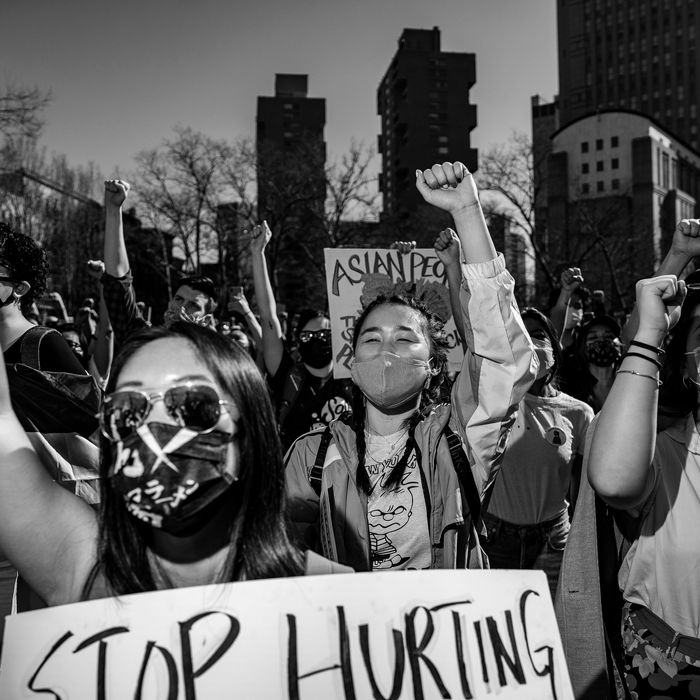 Photo: Bloomberg via Getty Images
Last Sunday, a 28-year-old man approached a 57-year-old Asian woman in Manhattan and punched her in the face. He fled a block west, where he punched another Asian woman. For roughly two hours, the man allegedly went on to assault five more Asian women — most of them in their late teens and early 20's — by punching or elbowing them in the face before fleeing the scene. All of the women suffered injuries from the attacks, with two requiring hospital treatment.
On Wednesday, the man, identified as Manhattan resident Steven Zajonc, was arrested and taken into custody after reportedly barricading himself inside the New York Public Library in Midtown, law-enforcement sources told NBC New York. Zajonc, who had no prior New York City arrests, offered no statement of his own, but police confirmed that the attacks were unprovoked: Zajonc apparently didn't know any of his victims and had no "prior interactions" with them before he assaulted them.
The attacks are only the latest example of a rise in anti-Asian violence. In a statement posted to Twitter, City Councilwoman Carlina Rivera, who represents the district where most of the seven attacks took place, said she was "equal parts devastated and enraged" by the "gender and racially motivated hate crimes," adding that "condemnation is not enough."
Zajonc has been charged with seven counts each of assault as a hate crime, attempted assault as a hate crime, aggravated harassment, and harassment.
According to a recent report, anti-Asian hate crimes spiked 339 percent last year, but it can still be rare for such attacks to actually be charged as hate crimes. The fact that some recent crimes have not been classified as such in New York has provoked outrage among AAPI communities, many of whom live in grief and fear of being targeted in increasingly heinous and often arbitrary acts of violence. Last week, the family of GuiYing Ma, a 61-year-old Chinese woman who was subject to a brutal attack last November, confirmed that Ma died from her injuries. Although authorities reported the attack to the NYPD Hate Crime Task Force, it still remains uncertain if Ma's attacker will be charged with a hate crime.
Ma is the fourth Asian New Yorker to die after being attacked in recent months.