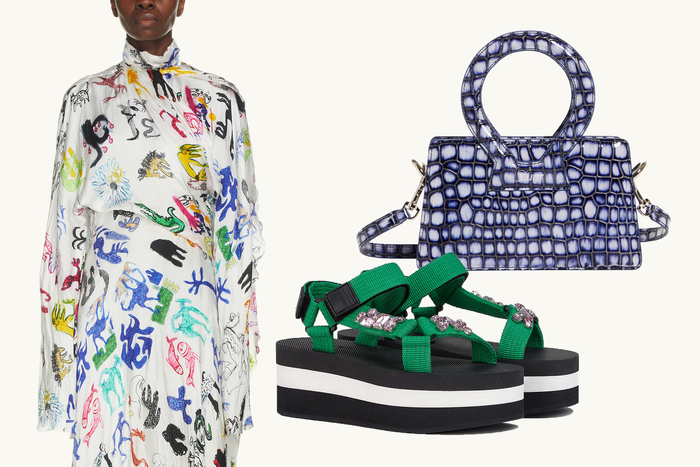 Photo-Illustration: Lauren O'Connell
Life's too short to play it safe: That's the mantra of Chloe King. The beloved fashion icon has worked in the industry for almost a decade — in the business of content, social media, and luxury retail. And besides making a prominent name for herself at work, she's amassed a personal following for her unexpected outfit pairings that leave onlookers craving the confidence to embrace maximalism in all its splendor.
King's wardrobe consists of old and new, emerging designer pieces and rare vintage finds. "I like when something feels a little off or unexpected — that could be as simple as a strange color or a cheeky detail," she says. She describes herself as "not a very practical shopper," noting that much of what she's drawn to is based on an emotional reaction. That reaction has led her to appreciate stripes, polka dots, animal print, and florals as her everyday "neutrals." because, as she put it: "I think you should feel comfortable and confident in what you wear, but life is too short to play it safe."
King often looks to retailers like Nordstrom to find unique and bold pieces. So we asked her about her wishlist designer buys for spring, and she brought us a wide mix of tapestry prints, platform sandals, and bowling shirts from beloved brands like Marni and Wales Bonner. Read on for King's favorite pieces to get a visceral oh wow reaction.
"The images from this Paco Rabanne show at the Fondation Vasarely are burned in my memory; such a clever collaboration and way to honor artist Victor Vasarely. I love an oversized clutch as a day bag, and this retro print is so good."
"Fisherman sandals were my MVP shoe last summer, so I love this platform update in the perfect milky white. If I can't wait for spring weather (very impatient Pisces), then I'll happily wear them with a sock."
"Lemaire is just a brand that oozes effortless cool. I hope to be a Lemaire woman one day. This top takes tie-dye from kitsch to craft — with the most delicious color combo. The oversized, pajama-style top is so ideal for the city heat."
"It's an It Bag! And I am not immune. I've been waiting to scoop one up, and this super luxe-looking blue embossed croc is the moment."
"I'm a big platform person. They're comfortable and a great way to ground a more adventurous look. This embellished, stripe-stacked Marni adds the perfect [twist]."
"One of my shopping secrets for easy, boxer-style shorts: shop the men's section. And if you are also looking to invest in more thoughtfully created clothing, Bode is it. Love that this print was inspired by an unfinished quilt from the '60s."
"Just a really good boxy shirt in a sunny citrus stripe. Get to know the impossibly chic Wales Bonner, if you don't already."
"Dries Van Noten is one of my all-time favorites; he always gets it right. There is something both pragmatic and utterly original about his work, presenting things I didn't even know I wanted to wear. Like a crimson marabou clutch with a pearl strap. Just makes you smile, no?"
"Do you own embellished knit hot pants already? Why not!! I'll try these cheeky little shorts with black nylons and an oversized jacket."
"Although sweaters are not usually something you shop for in the spring, it does stay chilly in NYC until May. I'd wear this sweet intarsia with a brown wool plaid pant now, and with a tulle skirt later this spring."
"I've been eyeing this boot for a while: cool, timeless, and comfortable. Even though my instincts lean more maximalist, a perfect black boot is a wardrobe essential."
"The juxtaposition of the juvenile doodle print with the sleek draping of this satin dress is just the kind of thing that speaks to me. A year-round, wear-everywhere dress, from the office to a cocktail party — here's hoping there are more of those this spring!"
This advertising content was produced in collaboration between Vox Creative and our sponsor, without involvement from Vox Media editorial staff.