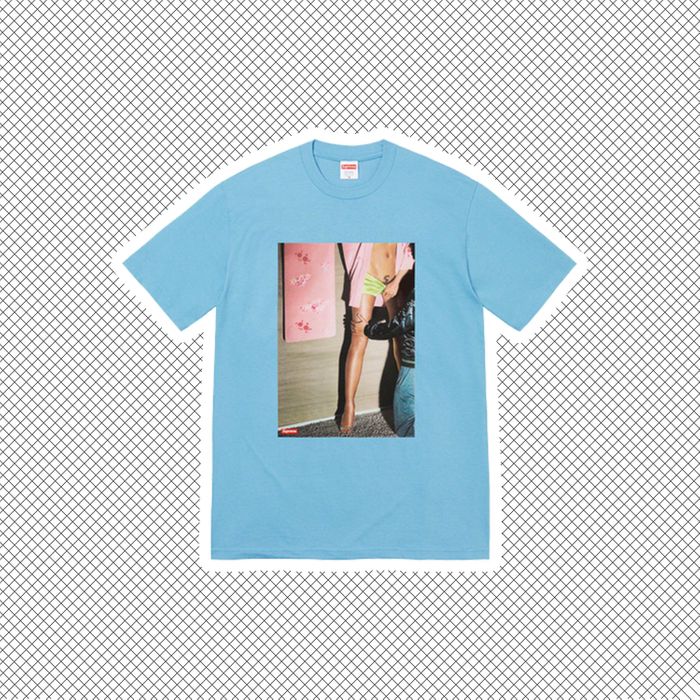 Photo-Illustration: The Cut; Photo: Supreme
What's the campaign?
Supreme — the endlessly ubiquitous streetwear brand — has remade Tom Ford's 2003 Gucci pube campaign, this time on a series of graphic T-shirts.
Ford's original (and highly controversial) advertisement appeared in an issue of Vogue and featured a photo of model Carmen Kass. In the photograph, Kass's face is cut off, and she's pressed against a wall in gray heels and a camouflage robe. A male model is pictured on his knees as Kass pulls her underwear down, revealing pubic hair shaved artfully into the shape of the Gucci G logo. Supreme has superimposed this image — this time, with S-shaped pubic hair — onto its classic cotton shirts for spring 2022. The shirt comes in natural (a creamy off-white), pure white, light pink, slate, olive, black, or bright purple, for $40.
Why should we care?
The Y2K era is back, and so is Gucci-shaped pubic hair. When Ford dropped the original Gucci advertisement, it pushed past sexually conservative boundaries. At Gucci, Ford was credited with "bringing sex back." But the campaign was quickly met with backlash. The Advertising Standards Agency fielded complaints about the advertisement's "offensive and sexually suggestive" content. Mediawatch U.K. tried (and failed) to get the ad banned, and tabloid columnists called Ford and others behind the image, including Mario Testino, who photographed it, "no better than pimps and those who advertise sexual services in phone boxes." Gucci, meanwhile, defended the advertisement, calling it a "playful" subversion of regressive sexual gender roles — it was novel, back then, to see a man kneeling before a woman.
While some were offended by the now-infamous advertisement, others were inspired by "Gucci pubes" well into perpetuity. "Still need to shave my pubes into the Gucci logo and snap pics of this Gucci coochie," a fan tweeted in 2021. That the remake of the once almost-banned image is now plastered on ubiquitous streetwear feels both like a corrective act and an aggressive normalization.