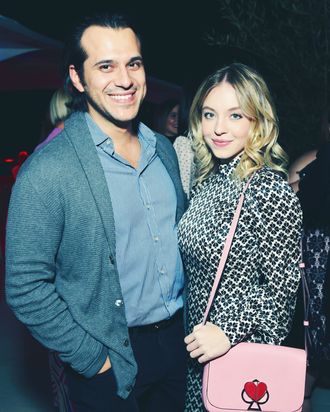 Photo: Charley Gallay/Getty Images for InStyle
Ding-dong! That's the sound of (alleged) wedding bells! Earlier this week, Euphoria's Sydney Sweeney was spotted wearing a big ol' diamond ring — on her ring finger, no less! This, of course, sparked rumors about a possible engagement. Now People reports that Sweeney is indeed engaged to her boyfriend, Jonathan Davino, whose family owns a cannabis-related industry. To which I say, I have never, ever been happier!
If the name Jonathan Davino doesn't sound familiar to you, that fits Sweeney's M.O. She recently spoke to Cosmopolitan about her decision to keep her romantic life private. "I don't date people in the spotlight," she said. (No offense, Jonathan!) "I don't date actors or musicians or anyone in entertainment because I can just be normal Syd that way and it's easiest. I have a great support system." Admittedly, it would be difficult for any man to outshine Sweeney. She looks like a blonde Jessica Rabbit and carried season two of Euphoria.
While Sweeney and Davino were first linked together in 2018, she's never publicly confirmed their relationship. However, the two have since been seen smooching in the ocean, smooching on yachts, and going to basketball games together. (No smooching was documented during the latter.)
Sweeney has yet to publicly confirm her engagement, which is unsurprising given how private she's been about the relationship up to this point. Regardless, best wishes to these two on many more years of smooching in various locations!