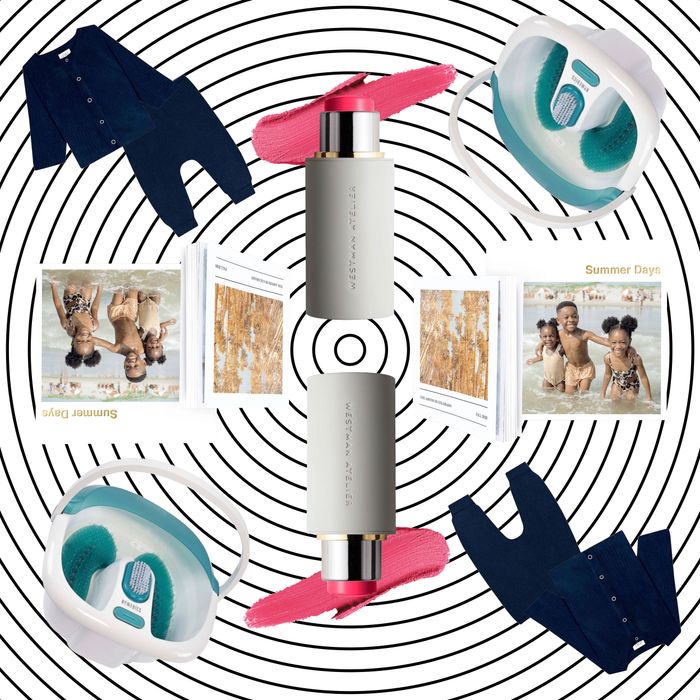 Photo-Illustration: The Cut; Photos: Retailers
Outside of offering your free babysitting services, there are many things you can gift the new or expecting mom this Mother's Day. To get you started on your gifting ahead of the holiday, we've searched high and low for the best gifts for new moms. We've rounded up beauty essentials for postpartum hair loss and growing bellies, everything they need for self-care, and maternity and nursing clothes that are actually cute. Read on to shop our picks.
For the Mom Who Can't Sleep
Soothe and de-puff with the gel mask or use the weighted eye mask in this mask set. The eye mask is weighed down with a blend of flaxseed and relaxing lavender. Reviewers love how it helps them get to sleep (and stay asleep) and combat migraines.
For the Mom Who Needs a Spa Day
For any swelling and aches, this highly reviewed footbath is like having a spa at home. It heats to and maintains a comfortable temperature and bubbles to help massage tired feet.
For the Mom Who Loves Skin Care
This is a favorite and a best seller for a reason. The multitasking serum helps reduce the appearance of fine lines and wrinkles, while also firming and brightening the skin — perfect for postpartum skin. Yes, the rumors are true: It does smell kind of weird, but the smell fades away.
For the Amateur Photographer
Bring all the baby photos on their phone to life with this custom paperback photo book. Fit from 30 to 400 pages of photos into books ranging in size from 5.5-by-5.5 to 10-by-10 inches — plenty of space for all their favorite memories.
For the Mom Whose Hair Needs Extra Care
Combat postpartum hair loss with this best-selling serum from Ayurvedic brand Ranavat. It features hair- and scalp-nourishing ingredients like amla, sunflower oil, and jasmine, and can be used daily to smooth hair or overnight as a mask.
For the Mom With a Belly Skin-Care Routine
There is seriously a sheet mask for everything, including pregnant bellies. This biodegradable sheet mask features calming and nourishing ingredients, such as aloe and propolis, that also help reduce the appearance of stretch marks.
And Moisturizing Routine
This balm nourishes growing bellies and very dry skin with a blend of sunflower seed, avocado, olive, and calendula oils. Use the pregnancy-safe balm all over your belly to target and combat stretch marks. It's also lightly scented for even the most sensitive noses.
For the Mom Who Loves the Basics
Gift this easy set of wardrobe essentials to the mom-to-be or new mom. It features cozy and stretchy pieces, including a T-shirt dress and leggings that she'll want to wear before and after pregnancy.
For the Mom Who's Nursing
This pretty dotted blouse was made for easy nursing access without all the awkward or extra fabric. It will be pretty much indistinguishable from the rest of her wardrobe.
For the Mom Who's Serious About Baths
Perfect for serious bathers, this best seller stores all their bath-time essentials and adjusts to the tub size so it stays in place. In five finishes, the durable steel caddy will pair well with the rest of their bathroom décor, too.
For the Mom-to-Be
One more thing to pack in the hospital bag, this pajama-and-robe set comes with a matching hat and gown for the baby. She'll get plenty of use out of this set, since the tank top is ideal for nursing, and the baby gown fits 0 to 3 months.
For Very Fancy Moms
Gift this corduroy baby set that pairs perfectly with the Sophie sweatshirt and pants for Mom.
For the Mom on the Go
For the fashionable new mom: the diaper bag that looks nothing like a diaper bag. The roomy bag can fit bottles, diapers, wipes, the included changing pad and pouch, and way more. She'll want to keep this carryall on hand even when they're all potty-trained. You can even fit a laptop in it.
For the Multitasking Mom
Cut down her morning routine with the multipurpose blush stick from Westman Atelier. Available in six shades, it can add color to her lip, cheeks, or eyes for a look that's Zoom- or date-night-ready in a few swipes.
For the Mom Who Wants to Relax
Another bath-time (or any time, really) essential worth gifting: a scented candle. This one from Aromatherapy Associates is more than pretty décor. Its blend of vetiver, sandalwood, and chamomile helps promote relaxation —something new moms can always use.
For the Very Busy Mom
It steams, sterilizes, slow-cooks, and warms — there are few things this multiuse pressure cooker doesn't do. The highly reviewed cooker from Instant Pot features multiple settings and cooks up to six portions — perfect for busy moms.
For the Mom Who Doesn't Do Maternity Wear
Photo: Courtesy the vendor
This washable silk set is flowy enough to accommodate a growing belly. The soft and luxe two-piece is available in seven shades, with sizes ranging from XS to 2X.
For the Mom Who Prefers Showers
This exfoliating bar from Mutha buffs away dry skin while also moisturizing it. Scented with white grapefruit and green foliage, this bar of soap can make a shower just as luxurious as a bath.