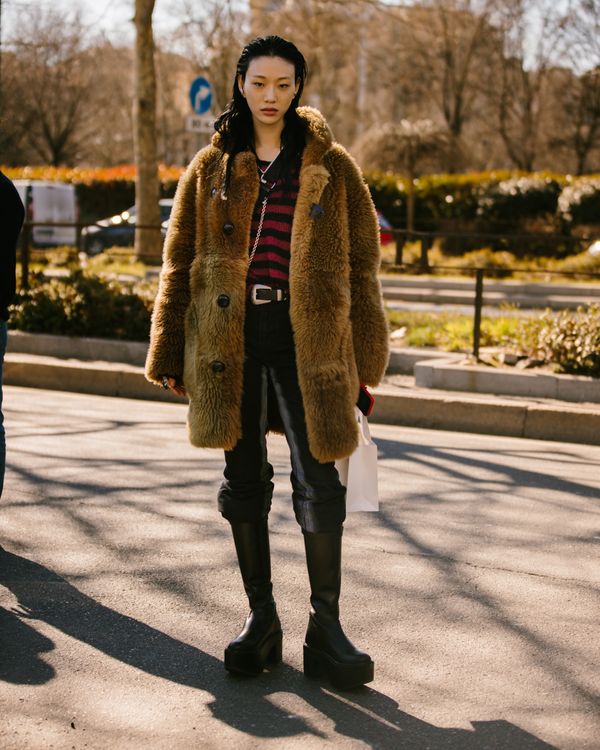 Photo: Christina Fragkou/Christina Fragkou
Milan Fashion Week consistently delivers some of the strongest shows of each Fashion Month. So naturally, the street style of the editors, models, and celebrities in attendance matches in tone and spirit. Below are the best street-style looks from Milan Fashion Week, as captured by photographer Christina Fragkou.
Yoyo, public relations at ALPR
Yoyo wears a vintage jacket, a Mukzin dress, and Charles Jeffrey Loverboy shoes.
Valentine (they/them), model
Instagram: @b1tchiest
Courtney Trop, fashion blogger
Courtney wears a Junya Watanabe top, a Comme des Garçons sweater, and Miu Miu shorts and shoes.
Instagram: @alwaysjudging
Tiany Kiriloff, influencer
Tiany wears an Items14 sweater, a Natan skirt, Dries Van Noten shoes, and Daily Paper sunglasses.
Instagram: @tianykirilove
Giulia Alborghetti, manager at Sunnei
Giulia wears all Sunnei.
Instagram: @giuliaalborghetti
Jordan Anderson, editor at large at NSS Magazine
Jordan wears all Sunnei.
Instagram: @symbiosity
Breanna Box, artist
Breanna wears a vintage dress, a vintage Korean scarf, 1912 Germany earrings, and Asics x Kiko Kostadinov shoes.
Sissi Pohle + Patrick Scherzer, vintage-store owners
Sissi wears MM6 pants and vintage pieces from @outofuseberlin. Patrick wears an MM6 jacket and vintage pieces from @outofuseberlin.
Instagram: @sissi_pohle and @pat_scherzer
Ksenia Chilingarova, entrepreneur
Ksenia wears a Margiela coat, Jil Sander dress, and Kwaidan editions bag.
Instagram: @k_chilingarova
Richie Shazam, artist and model
Richie wears full Etro.
Instagram: @richieshazam
Devonté Hynes, a.k.a. Blood Orange, musician
Devonté wears a vintage sweater, a vintage jacket, vintage pants, a Maryam Nassir Zadeh hat, and a vintage Medea bag.
Instagram: @devhynes
Wannacoo, creative director and designer of Boyy
Wannacoo wears a Jil Sander jacket, hat, and shoes; Celine socks; and a Boyy bag.
Instagram: @wannacoo
Steff Yotka, senior fashion news editor at Vogue
Steff wears a vintage jacket; a Chopova Lowena skirt, necklace, and bag; and Prada shoes.
Instagram: @steffyotka
Sora Choi, model
Sora wears a vintage jacket, vintage jeans, a vintage sweater, and Ports 1961 shoes.
Instagram: @sola5532
Margherita Mine, model
Margherita wears an Armani coat, Margiela boots, and a Vivienne Westwood bag.
Instagram: @fujimine_
Fatma Kutscher, stylist and creative director
Fatma wears a vintage jacket, a vintage top, vintage pants, a Jacquemus bag, and a Prada hat.
Instagram: @fatmasaltwater
More From Milan Fashion Week
See All