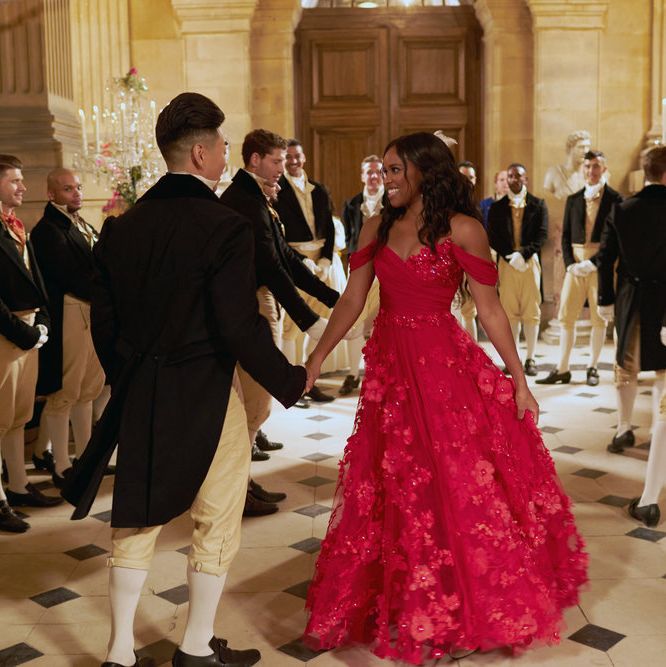 The Courtship, in case you don't already know, is a dating show in Regency-era cosplay. Cue the fireworks! In the show, one woman and 16 men — her "suitors" — live at a castle in the English countryside and play out a Bachelorette-style courtship in full Bridgerton period costume. The Courtship premiered on NBC's Sunday lineup to low ratings and has since been moved to Wednesdays on sibling channel USA — which means you probably haven't watched it. You must. Allow me to selfishly convince you, so that I can keep watching it.
On its premise alone, this show should be a hit; sexy period dramas are having a moment. In December 2020, Bridgerton shattered Netflix's streaming records and has since sparked a TikTok musical that is now a Grammy-nominated concept album. (Seriously, yes.) Additionally, PBS Masterpiece Sanditon got a second season, which began airing on Sunday. And The Gilded Age has taken HBO viewers back in time to late-18th-century New York. With all this fanfare, it was only a matter of time before reality TV hooked its claws into the trend.
I'm going to make a bold claim: Everything The Bachelorette gets wrong, The Courtship gets right.
I had decidedly turned my back on the reality-dating industrial complex until catching this show's premiere. First of all, the guys on this show put in the work. They have to write letters, learn choreographed period dances, play cricket, and practice calligraphy. Calligraphy! And the addition of a drama-stoking "court" of family and friends runs entirely counter to the premise of Bachelor franchise shows: that the singleton must choose a suitor in a vacuum with no outside perspective.
The first episode opens on a bastardized Jane Austen quote: "It is a truth universally acknowledged that a single woman in search of a husband must go to Regency-era England and live in a castle with sixteen eligible suitors." The single woman in question is Nicole Rémy, and the setting is a castle complete with velvet upholstered chairs, parasols, and men with billowing sleeves à la Colin Firth's Mr. Darcy. The camera cuts to Rémy's carriage approaching her castle, underscored by a string-quartet rendition of "Don't Stop Believin'." Jane Austen rolls over in her grave, and I don't know whether I'm still watching ironically. The frilly hats alone keep me coming back for more.
Rémy — or Ms. Rémy, as her suitors must call her — is a former Seattle Seahawks cheerleader turned software engineer who is now full time wearing a floor-length gown and sipping from a Champagne coupe that is miraculously always full.
"Dating in the 2020s is hard, but it turns out dating in the 1820s was bloody difficult too," says the show's British stock-photo host, Mr. Edwards. Between his bland good looks and his posh accent, Mr. Edwards has versatile appeal — he could be the heir to the Harrods fortune or an extra in Fleabag. You'll never be sure.
Rémy's 16 suitors hail from North America, the U.K., Spain, and South Korea, but they all had to learn the basics of 18th-century-British etiquette, which poses a greater barrier to entry than most of The Courtship's competing programming. In their "suitors' quarters," they have crystal decanters of whiskey, green velvet couches, and a verdant pool table to match. They're not allowed to use phones or the internet, and the cameras catch them pining for Arby's. But by the end of the second episode, they've all put in more effort than I've seen across entire seasons of The Bachelorette.
Each episode sends the suitors on a challenge or Regency-era activity. The Daily Tea, a thinly veiled knockoff of Lady Whistledown's Society Papers, announces plans for the day. They dance at a welcome ball complete with costumed extras, row Rémy and her court to a lakeside picnic, and compete in games of cricket. And eventually, one lucky gentleman wins a date.
"The Regency way to a woman's heart is through her family," The Daily Tea proclaims. Rémy's court comprises her parents, Mr. and Mrs. Rémy; sister, Mrs. Baker; and best friend, Tessa. This is The Courtship's true genius. Families might bring their own drama (see also: Pride and Prejudice, Emma, Sense and Sensibility), but they protect against the worst of the worst of reality dating shows. Potential Luke P. gaslighters or two-faced Brendans seem wholly less likely when a young woman has more than Chris Harrison to advise her on matters of the heart.
At every turn, this show picks the most chaotic twist on dating-show conventions. In lieu of the stilted rose ceremony, each Courtship episode ends with an earnest and deeply awkward "farewell ball." Unlike in Bridgerton, you don't want to end up on Rémy's dance card, which is a docket of gentlemen up for elimination. She dances with each of them and, with everyone watching, rattles off a list of their faults in hushed tones. Bless these guys for managing to hold conversations while remembering choreography on national television. At the end of each dance, Rémy sends her waltz partner to join the remaining contestants on the balcony or to a carriage waiting to take him home. And, whatever the situation, she is contractually obligated to bid her eliminated suitors "farewell."
See? It's perfect. If binging Bridgerton's second season leaves you wanting more — or if you're a glutton for family drama and stellar outfits — I implore you: Join me in queueing up The Courtship.