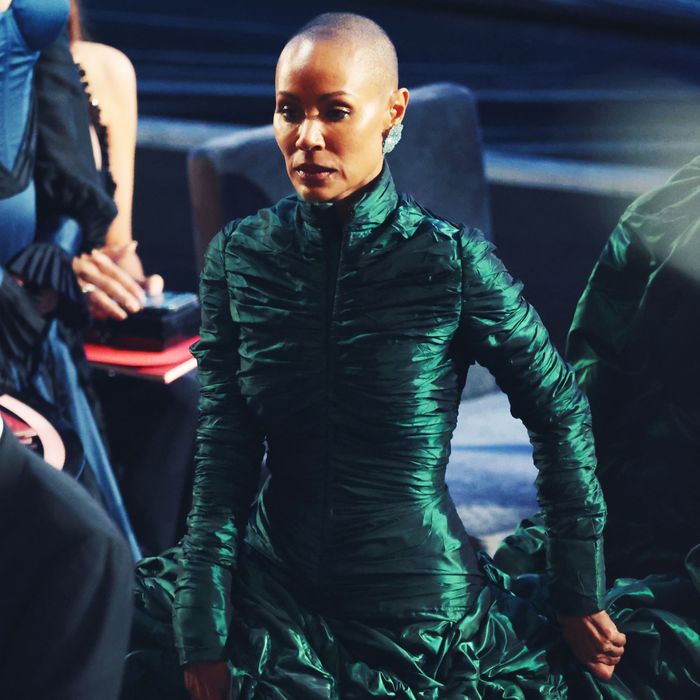 Jada Pinkett-Smith at the 2022 Academy Awards.
Photo: Myung Chun/Los Angeles Times via Getty Images
The 2022 film awards season came to a close on Sunday, but not before two moments of jaw-dropping disrespect toward Black women went viral. The first came earlier this month, at the Critics' Choice Awards, when director Jane Campion won the Best Director prize, and belittled Venus and Serena Williams's tennis careers in the process. "You know, Serena and Venus are such marvels. However, you do not play against the guys like I have to," she said in her acceptance speech. While the Williams sisters did laugh, Venus's face said it all. A few weeks later, at the Oscars, comedian Chris Rock made a G.I. Jane joke about Jada Pinkett Smith's buzzed hair, and Will Smith responded with "the slap heard across the world." The incident prompted countless takes, most agreeing that it was one of the more astonishing moments in Oscars history. Yet in at least one regard, it was nothing new. Along with red carpets and acceptance speeches, the awards circuit has a long tradition of humbling Black women.
This history goes back at least as far as 1940, when Hattie McDaniel won the Academy Award for Best Supporting Actress. McDaniel was the first Black person to win an Oscar, but initially she wasn't even invited to the whites-only hotel where the event was being held. In the end, she was allowed to attend, but she was seated in the back of the room against a wall. When she finally made it up onstage to accept, she graciously said, "I sincerely hope that I shall always be a credit to my race and the motion picture industry."
Fast-forward to 2002, when Halle Berry won the Oscar for her performance in Monster's Ball, making her the first and as of now only woman of color to win Best Actress. Her speech was famous for listing the Black actresses who came before her and the peers she hoped would follow in her stead. But her tears were mocked on late-night television. A year later, Best Actor Oscar winner Adrian Brody used his acceptance speech to lecherously kiss Berry to a roomful of applause. Reminiscing about her big night, Berry recently said that her win "meant nothing" for diversity in Hollywood. It has been 20 years, and no other women of color have been welcome into the Best Actress club.
Meanwhile, the Black actresses who have followed in Berry's stead have faced countless indignities. During the awards cycle for Precious, Howard Stern caught some grief for saying of Gabourey Sibide, "There's the most enormous, fat Black chick I've ever seen. She is enormous. Everyone's pretending she's a part of show business, and she's never going to be in another movie." Her co-star Mo'Nique refused to campaign because her schedule was packed with a late-night talk show and a family at home. Mo'Nique felt her work should have spoken for itself; instead she endured a press cycle that fixated on the fact that she didn't shave her legs. When she accepted her Oscar for Best Supporting Actress, she addressed the controversy in her speech, saying, "I would like to thank the Academy for showing that it can be about the performance and not the politics." More than a decade later, the Oscar winner says that she has been "blackballed" for not "playing the game."
Then there were the painful awards cycles of 2013 and 2015, when white presenters refused to learn how to pronounce Quvenzhané Wallis's name. The 9-year-old Black girl was constantly being placed in white spaces and encouraged to smile and do her famous "arm flex," just for the Onion to think it would be funny to call her a "c–t." The carelessness was reminiscent of a similar incident years earlier, in 2007, when 17-year-old actress Shareeka Epps was nominated for Best Actress for her performance in Half Nelson at the Independent Spirit Awards. The presenter was actress Felicity Huffman, who ran through the names of the nominees in a rush, declaring the winner "Shakira" Epps. An all-dolled-up Epps, simply excited to be there, joyfully accepted her award before smiling and saying, "My name is Shareeka, by the way."
These little pokes may not feel like much in the moment, but they leave a lasting scar that says "your invitation has an expiration date." Even mainstays like Oscar winners Viola Davis and Octavia Spencer have been undermined and slighted. In 2016, Davis was nominated for Supporting Actress for her role in the film Fences, even though she was clearly the co-lead with Denzel Washington. It was assumed that from the studio's point of view it would be a more practical way for Davis to receive recognition, instead of putting her in a stacked Best Actress field with Emma Stone as the front-runner. Both won their respective Oscars, but there's still a hint of what could have been. Meanwhile, in 2019, Spencer was an executive producer on the Best Picture–nominated film Green Book but was not invited to the Oscars ceremony. She had to win her ticket in the Oscar lottery.
Time and again, Black women are invited to parties that quickly let them know that the price of admission is jabs at their personhood. This year, Beyoncé was asked to spectacularly open for the Oscars in a performance introduced by the Williams sisters, only to be snubbed when it came time to announce the award for Best Song. (Which is a step up from the year "Listen" from Dreamgirls, which she co-wrote, was nominated for Best Song, but it was decided she wasn't a primary songwriter, leaving her name off of the nomination.) Even if they didn't make as many headlines, the small moments of disrespect added up, from having H.E.R. and Daniel Kaluuya walk out onstage to Toto's song "Africa" to Tiffany Haddish having to correct a journalist who called her Dolce & Gabbana gown a "costume."
When Rock delivered his G.I. Jane punch line, the camera cut to Pinkett Smith, who, unlike the rest of the room, was not laughing. It's unclear if Rock knew that Pinkett Smith has alopecia, but given that he made an entire documentary about the nuances and sensitivities around Black women's hair, it's hard to think he doesn't know what he's doing when he mocks a Black woman in front of a majority white viewing audience. Yes, they are millionaires having a tiff in mixed company, but it was also just one more instance of a Black woman being othered and belittled and expected to grin and bear it. The only difference is that this time, someone stood up for her.