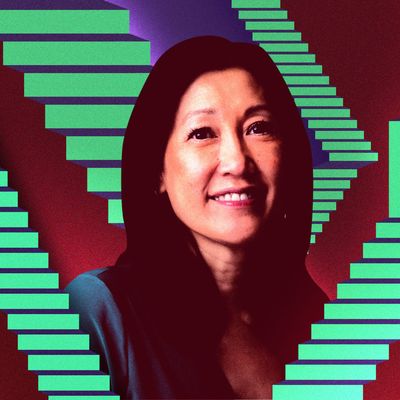 Photo-Illustration: by The Cut; Photo: Courtesy of Acrew Capital
My Biggest Setback is a micro-series that asks powerful women to look back at their career's biggest setback and how they moved on from it to find professional and personal growth.
Theresia Gouw, a founding partner of Acrew Capital, an early-stage venture-capital firm focused on software and security technology, is one of the most successful VC investors in the country. Under Gouw's leadership, Acrew manages over $1 billion in assets. Personally, Gouw is focused on diversifying the traditionally insular world of VC, creating a workforce that's 85 percent women and BIPOC and 50 percent immigrant or first-generation employees. She also serves as a board member of DonorsChoose, a nonprofit that provides supplies to public-school classrooms, and One, a nonprofit dedicated to fighting poverty. Here, Gouw talks about taking time off from her job to deal with her personal life without knowing what her career would be like when she returned.
What was your career goal when you were starting out?
When I graduated from college, I didn't even know what venture capital was. I applied to business school, and my career goal was to become a leader in product management at a big tech company because that was what I knew. It was really at Stanford — this was in the late '90s, in the heart of Silicon Valley during the first internet wave — that I saw the world of technology start-ups. I realized you could be a product manager and be involved in technical innovation at small venture-backed tech companies, not just at huge global companies. After I graduated, I ended up joining a couple of classmates of mine who had just received $1 million in seed funding for their software start-up. That was where I first got to know more about what venture capital was. It was one of the venture capitalists on my board, in fact, who said, "Hey, instead of doing another start-up, have you ever thought about doing venture capital?" That's how I ended up going to "the dark side," as the entrepreneurs call it.
What was your biggest setback along the way? 
My biggest professional setback coincided with what I perceive to be my biggest personal failure, my divorce. At the time, I was at a larger VC firm. I'd been there for 15 years. I started out as an associate, and by that point, I was a managing partner. I had asked to take a sabbatical for a few months while going through my divorce because my kids were very young. They said they weren't going to give me a sabbatical but that I could take what they called a "family leave." At the time, I happened to be the only female partner there, which is still the case at two-thirds of venture firms. I thought, How come I have to take family leave when others have taken sabbaticals when they needed time with their families? It seemed condescending. Sabbatical was clear: You go away for three to six months, you come back, and everything's the way it was when you left. Family leave was uncharted. Looking back, I wish I had been more vocal. This was before I felt more comfortable about speaking up about things that are … gender-tinted, shall we say? I took the family leave because my kids needed me, but it was super-scary for me. I didn't know what I would be coming back to.
How did you deal with the setback? 
When I had my kids, I focused on them. I worked on being the best solo parent I could be, which was new for them and for me. It was a really challenging time, but I took the time as an opportunity to do a bunch of things I hadn't done a lot of as a working mom. I took them to school every day. I packed their lunches and made their breakfasts, which probably sounds unremarkable, but if you knew me, you'd know I'm actually a terrible cook. I was fortunate. My kids were young enough that they loved the only three things I knew how to make. I volunteered to coach or be the team parent or chaperone for field trips. In terms of taking care of myself, when my kids were with their dad, that's when I focused on me. I started doing things I used to do when I was younger. I started ice-skating again, which I used to do competitively when I was a kid. I'd take trips with friends and family.
Did you ever consider giving up? 
Definitely. It was the first time in my adult life that I wasn't working full time, and it was also the first time I thought about leaving that venture firm. I'd been there for 15 years. I was very lucky. The fund grew a lot. Financially, I didn't really need to work. At the same time, I knew I loved working. I loved being around tech founders and start-ups and hearing their ideas about new companies they wanted to start and build. On leave, I had some time away from the day-to-day of being a managing partner. It made me think differently about what I could do and still be doing the things I love, like venture capital and investing in tech start-ups, while still being a whole person and a present mom. So that was really the impetus for me leaving that firm and starting my own.
What advice would you give others who feel as if they're going through something in their career they might not overcome? 
When you're feeling today like you're not where you thought you would be, that doesn't mean you're not going to get to where you want to be. Don't be overwhelmed by where you are today. Think about what you want to do next, and there's always a path and a way to make that change. If part of that is taking a bet on yourself — taking your own money and starting your own business, your own fund, or leaving a place where you feel stuck — it seems risky, but what I've learned is that taking a calculated risk on yourself is probably the least risky thing you can do. Ultimately, we're betting on people. What person do you know better?