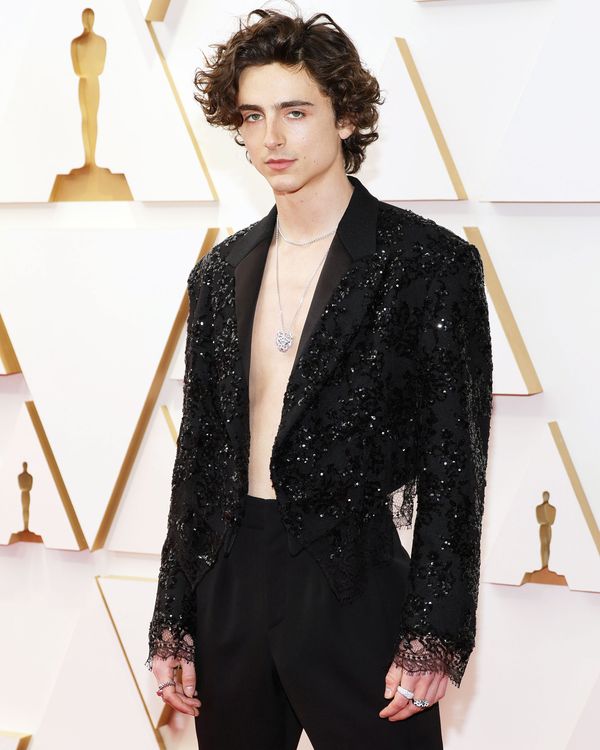 Photo: Mike Coppola/Getty Images
On Sunday night, Dune star Timothée Chalamet made a fashion statement on the Oscars red carpet with very little clothing at all. In lieu of a dress shirt, he wore nothing but the pale, hairless skin on his chest underneath a Louis Vuitton blazer from the spring 2022 women's collection. I could practically hear the screams from across the country when he arrived.
Maybe he was jealous of his many peers who've shown their midriffs recently in Miu Miu miniskirts and crop tops. Maybe it was unusually hot in Los Angeles and he didn't want to sweat through his tux. Maybe he spilled. Maybe he was inspired by Mick Jagger. Either way, the decision is an inspiring one for anyone struggling to figure out what top to wear to a work event these days. The answer? Just forget it! Think of how many minutes you could save no longer needing to iron your shirt, or fasten your cuff links, or tie your tie. No wonder he arrived on time this year.
I can't recall anyone else showing up to the Oscars without a shirt, but this is not the first time Timothée has done his own thing with the dress code. (He also wasn't the only one; Kristen Stewart wore short-shorts.) Two years ago, Chalamet made me so mad with his casual Prada look — it seemed a bit too cool for school in the moment. But in retrospect, that look was way ahead of its time. After February 2020, the rest of the world stopped wearing ties too — and apparently, some of us never went back. I can't wait to see what he wears next year. Or rather, doesn't wear.