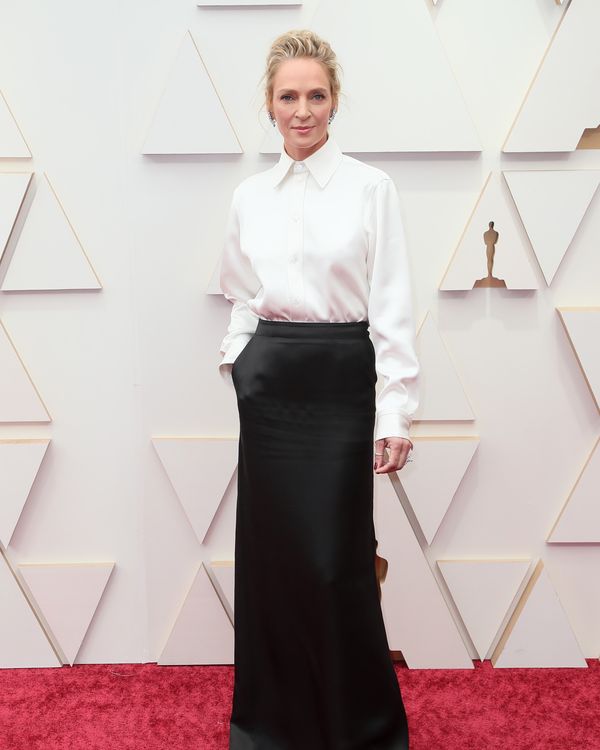 Photo: David Livingston/Getty Images
It takes only a few minutes for an Oscars red-carpet moment to go viral, but a huge amount of time and effort and strategy goes into putting even the most simple-looking outfits together in advance.
Stylist Kate Young met Uma Thurman around a month ago to start talking about what she would wear to present at the ceremony on Sunday night. Thurman was set to be joined by her Pulp Fiction co-stars Samuel L. Jackson and John Travolta onstage, so they thought it would be fun to pay homage to one of Thurman's most iconic looks in the film: her white button-up shirt and black pants.
"It's not immediately what you think of for the Oscars," said Young of the look on Monday night. She'd just landed back in New York after dressing four other celebrities for Oscars after-parties, including Dakota Johnson in Gucci and a pregnant Sophie Turner in Louis Vuitton. "[Uma] was not going for a glamour look this year," she explained. "She wanted to be chic and reserved — basically more real life and less like a red-carpet doll."
Young reached out to Bottega Veneta designer Matthieu Blazy with the idea. She loved the "minimal utilitarianism" of his debut collection this past fall and asked if he could make look nine, which consisted of stiff navy matching shirt and pants, into a gown for Thurman. Because the look was so simple, she wanted to make sure it still felt fancy and expensive — something Bottega Veneta is known for being able to accomplish. Blazy's show, for example, opened with a white tank top and jeans that were actually made entirely out of leather. "It couldn't just be a cotton shirt," Young explained. So Thurman's skirt and top were fashioned from a heavy twill, a fabric so thick you could make something like a trench coat from it.
It paid off. The look appeared on a number of best-dressed lists, including the Cut's. On Twitter, Harper's Bazaar fashion-news director Rachel Tashjian declared it the definition of chic.
"THE PRECISION," echoed stylist Ian Bradley.
Personally, I was in awe of the fact that Thurman's look didn't seem to have a single wrinkle; it was as though her shirt had been chiseled straight out of marble. This was thanks to the thickness of the twill fabric, Young explained, not a power steamer. (Although, if you want to know which one she uses, it's this purple one from Conair.) The tailors who fit the look so precisely pressed it with an iron after Thurman's fitting the day before, and Young said she suggests that all her clients recline their car seats on the way to events to avoid creasing.
Young also had another trick up her sleeve that you'd probably never guess: "I asked Bottega to make a duplicate," she explained. "They had it backstage, and she changed before presenting. I was scared that she would have been sitting for two and a half hours and would have creases across the front. Or, you know, what if somebody kissed her and got makeup on her shoulder or collar? It had to be pristine."
Aha! Now that's some true red-carpet magic. Young also had the shirt made into a bodysuit and attached snaps to the skirt so the whole thing would stay in place as Thurman moved.
"For me, it was really exciting to do something creative and that Uma was open to my idea," she said. "Actresses generally want 'sparkly mermaid' and to look pretty and glamorous. I think it probably felt like a risk for her because she didn't have the armor of big diamond necklace and a sparkly gown. It was quite strict and plain and quiet." But, of course, this is precisely why Thurman stood out.