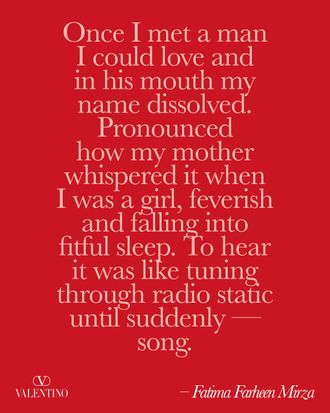 Valentino has been working with noteworthy people and authors, including Elsa Majimbo on a book titled The Alphabet for Kids and Adults, and with independent bookstores like the Strand since 2018. In May 2021, the brand started the first Narratives campaign, which featured Ocean Vuong, Donna Tartt, Lisa Taddeo, and more.
This year's campaign is all about love, and Valentino's creative director, Pierpaolo Piccioli, asked 18 writers and poets from across the globe to share their meanings of the word. Some of those authors include André Aciman, Andrew Sean Greer, Brit Bennett, and Fatima Farheen Mirza. (The brand will also continue to work with the Belletrist book club, which was founded by Emma Roberts and Karah Preiss.)
If you would like a copy of the book, it will be available March 17 to March 20 throughout Soho in Valentino-branded newspaper stands. If you want an adventure, the brand is also providing maps at the Valentino Soho boutique as a guide to the many activities set up throughout the neighborhood. Some include a sketch artist, hot-cocoa cart, floral-bouquet stations, and a vintage photo booth.
Below, we spoke with Bennett and Farheen Mirza about the text they wrote for the campaign, how they apply love to their writing, and what their love languages are.
What does love mean to you? And how does it inform your work?
Brit Benett: Endless curiosity. It's wanting to know everything about a person. It's the most interesting thing for me to write about because it speaks to human relationships. Loving somebody is the most that you can possibly care for them and the most vulnerable that you'll ever be. I think for somebody who's writing fiction, that's a perfect situation to find a character.
Fatima Farheen Mirza: One of the signs of loving someone, or being loved by someone, is when you get the feeling that being around them is bringing you closer to yourself, closer to your truth. I often think that I want my work to be a work of love stories. Not just the romantic love stories that we know of, but also the love between your friendships and the love between a grandparent and their grandchild.
What is surprising about this project?
B.B.: When you imagine fashion, you think about images, so it was cool for me, as a writer, to hear that they were doing something that was text. I think that was a fun kind of way to see yourself in a space that you associate with more visual image versus text.
F.F.M.: I love the creativity that can come from the merging of two different forms; it allows you to create an entirely new piece that lets you take risks with your work that you might not take otherwise. I usually work in novels, but I love this project because it gives you the constraint of trying to create a mini-novel in one page, which is a fun challenge.
What is your love language? 
B.B.: Quality time. I know I really care about somebody if I want to spend a lot of time with them because I do enjoy being by myself.
F.F.M.:  Quality time. Preferably spent away from the cell phone in nature with the person that I love. I always think about what the love languages of my characters are and how their love languages are aligned or not and how that will play out in their dynamics.
Can you tell us about the passage you wrote for the campaign? What kind of love did you write about? 
B.B.: A passage I had originally written for a short story a long time ago and never used. It is about longing, which I think is a type of love that I write about a lot: the wanting to be loved or wanting to love somebody and being a bit outside your grasp.
F.F.M.: The piece that I wrote this year from Valentino has all kinds of nods to other artists that I love that are also meditating on love.
If you could pick any celebrity to narrate your Valentino passage, who would it be? 
B.B.: Angela Bassett because she's an icon and a legend.
F.F.M.: FKA Twigs.