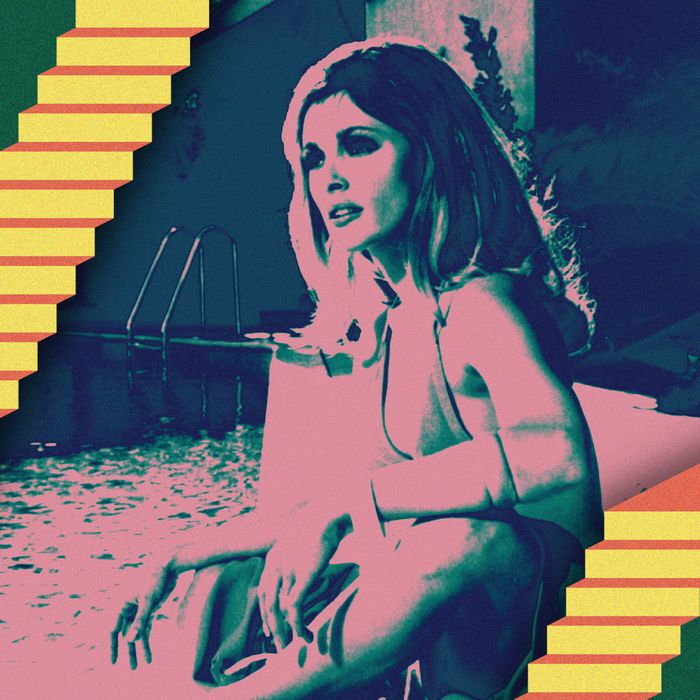 Photo-Illustration: by The Cut; Photos: Shutterstock
In this micro-series, the Cut revisits five Hollywood classics about female ambition.
My first mistake was watching Valley of the Dolls alone. The 1967 movie, based on the best-selling novel of the same title, is the kind best enjoyed in a theater full of people who can recite the script like religious doctrine. At the very least, it's the sort of movie you watch in a room with one other person to whom you can occasionally turn and say, Holy shit, this is wild.
Valley of the Dolls follows three women working in NYC's entertainment industry: Anne Welles (Barbara Parkins), a small-town girl turned secretary at a theatrical-law firm, rising star of stage and screen Neely O'Hara (Patty Duke), and Jennifer North (Sharon Tate), who is gorgeous but considered talentless. (Rude.) They each aspire to greatness, both in their careers and love lives, but instead face heartbreak, addiction, abortion, cancer, soft-core pornography, and lots of transatlantic accents. This is where I'd normally say "spoilers ahead," but it is impossible to spoil this movie by simply reciting its plot. In the end, none of the women really gets what they want. Jennifer dies from an intentional overdose. Neely grows increasingly dependent on barbiturates, which she calls "dolls," ultimately sabotaging her own career. Anne moves back home and declines a marriage offer by *checks notes* running out into the New England snow while wearing flats. Cue end credits.
Valley of the Dolls is greater than the sum of its parts, but each of those parts is truly bonkers. Take, for example, Jennifer and her "chest exercises." (Jennifer's boobs are as much a character in the film as any of the three women.) Or the moment when Anne, a mere legal assistant, unexpectedly lands a major brand campaign simply by being very hot. Her commercial is a bizarre and dreamy montage in which she wears billowing clothing and poses among giant statues for some reason. Then there's Neely, who is worth her own multi-film franchise. Neely justifies taking dolls while working by saying she needs them in order to "sparkle, Neely, sparkle!" She screams her own name during a drug-fueled breakdown in an alley. At one point, she is stumbling around Los Angeles and delivers the iconic line, "Boobies, boobies, boobies. Nothin' but boobies!"
Valley of the Dolls is two entire hours long, which is a significant amount of time to spend wondering to yourself, Is this movie real or am I imagining it?
In addition to watching it alone, I made the mistake of knowing nothing about the movie going into it. Valley of the Dolls works best with context, and oh, baby, is there a lot of context.
The movie is based on the 1966 debut novel by Jacqueline Susann, who started her career as an actress. To say the book was negatively received by critics is putting it gently. The New York Times snarkily compared it to the 1954 remake of A Star Is Born with Judy Garland. Time magazine named it "Dirty Book of the Month." At best, it was "poorly written." However, Susann's readers didn't seem to care as it was a quick commercial success. Valley of the Dolls spent 65 weeks on the Times best-seller list. For 28 of those weeks, it was No. 1. It was the best-selling novel of 1966 and, at one point, the best-selling book in publishing history. To date, it's sold more than 31 million copies.
The novel was seen as a roman à clef with many believing the cast of characters was inspired by real-life Hollywood counterparts. Neely was thought to be based on Garland, who also experienced addiction. The Broadway star Helen Lawson reminded many of Ethel Merman. Depending on whom you asked, Jennifer was either a proxy for Marilyn Monroe, Carole Landis, Susann herself, or some amalgamation of the three. Tony Polar, a crooner and Jennifer's love interest who is later diagnosed with Huntington's disease, was thought to be loosely based Dean Martin. Then there's the Judy Garland of it all. Garland was initially cast as Helen in the movie adaptation (ironic given Garland's contentious history with Merman). But she was dismissed from the film as a result of her irreconcilable differences with the director and ongoing alcohol abuse. When she left, Garland allegedly took all of her costumes and was later seen wearing one during a performance at the Palace Theater.
Unfortunately, the movie didn't see quite as much commercial success as the book. Not only was it critically hated, Susann herself was not a fan. Parkins told Vanity Fair that Susann thought the movie "had ruined her book."
To Susann's credit, it's not clear what the movie wants to say about … anything. It's not a deft critique of 1960s culture. It arguably did more to glamorize drugs in Hollywood than delve into the realistic implications of addiction. It's even more unclear what the movie wants to convey about female ambition. That it will drive us to pills and kill us? That it's impossible to achieve? That it's sexy in concept but silly in practice? That, at best, it will leave us barefoot in the snow? The ambition of Valley of the Dolls is not limited to its characters or even the story itself. It was a book that was underestimated and a film before its time. Captivating if only in its absurdity, Valley of the Dolls found its audience.
Ultimately, is the movie good? Not really, but it is perfect. It's campy and ridiculous, too much and somehow never enough. It's deliciously terrible in a way you can't help but say, "Sparkle, Valley of the Dolls, sparkle."