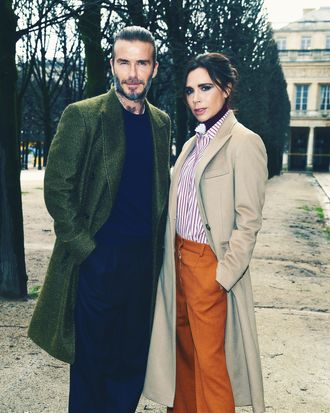 Photo: Pascal Le Segretain/Getty Images
TMZ reports that a burglar recently broke into David and Victoria Beckham's London home while the couple and their 10-year-old daughter were sleeping inside.
According to cops who responded to the scene, a masked burglar broke into the Beckhams' house the night of February 28 and stole "a number of items," though the Beckhams were unharmed. In fact, multiple outlets report the couple didn't realize the burglary had even taken place until their son, Cruz, who is 17, came home and discovered broken windows and a ransacked spare bedroom. Per TMZ, Cruz alerted his father, who called the police, though the burglar appeared to have already fled the scene.
Police told TMZ that an investigation is ongoing, though no arrests have been made yet, and the identity of the suspect is currently unknown. The Beckhams haven't publicly commented on the incident, though sources say they're both "shaken up." It's not the first time they've dealt with break-ins: Burglars tried to rob the couple's Cotswold mansion twice in 2018, with the couple reportedly hiring more security as a result.