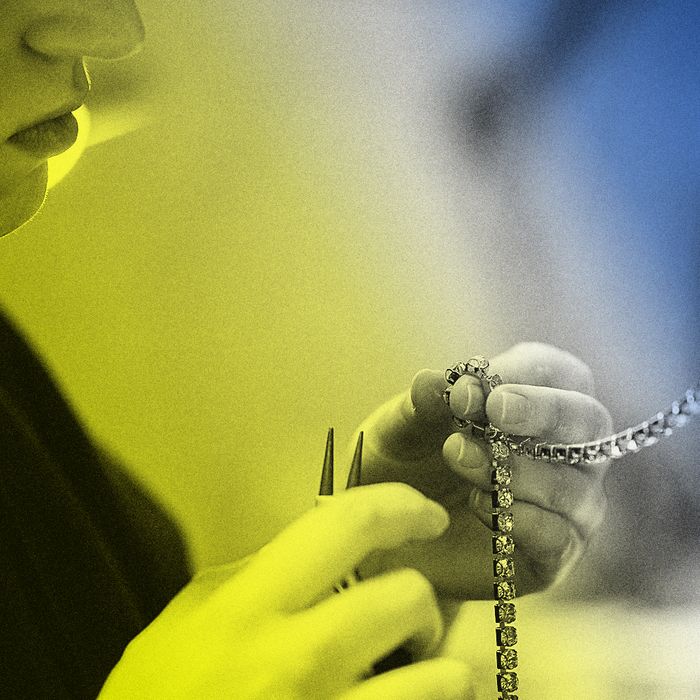 Photo-Illustration: by The Cut; Photo: Courtesy of Frolov
At the first explosions in Kyiv on February 24, designer Ivan Frolov decided to stop all production. His clothing label, which makes punky, dramatic nightlife apparel, employs 35 people. He and his family fled to safety western Ukraine, and while his team is scattered across the country, a significant number of them remained in Kyiv. They are now engaged in voluntary war work — his communications team is battling misinformation, while Frolov's managers are helping to place refugees in shelters. The company is doing its best to support everyone financially, but the business is completely on hold.
"There's no possible way we can even think of operating the company right now," said Frolov. "We're at war."
Other Ukrainian designers — Kate Zubarieva and Asya Varetsa, the founders of Sleeper; Katya Timoshenko, the founder of womenswear brand Katimo; designer Anna October — have operations in Kyiv. The first several days of the invasion were spent dealing with immediate safety issues as Russian troops invaded. Then, they repurposed their teams to support war efforts, from raising and donating money to volunteering in the army.
Some are trying to keep their brands and their staff alive outside of the country. Sleeper's 120-employee workforce is mostly young women — seamstresses, patternmakers, and other garment workers — and the company's first choice was to get them to Portugal or Istanbul, where work could continue and they could stay employed.
But many of Sleeper's employees chose to remain in Kyiv; some have joined the local army. The company continues to pay their salaries, but couldn't predict how long that arrangement could last.
Sleeper was founded in 2014, the same year Ukraine ousted its pro-Russian president. The brand found success in 2018 while the nation was trapped in a seemingly unceasing conflict with Russia. Now it will do its best to continue operations in the middle of an actual war.
"Sleeper was created in dangerous times; it's part of our DNA," said Zubarieva. "But we strongly believe that even in dark times, we have to live."
Researchers for the Clean Clothes Campaign told WWD that there are an estimated 6,000 textile factories employing as many as 220,000 Ukrainians. Those clothes aren't, for the most part, for Ukrainians: UkraineInvest, a government-created foreign-investment promotion agency, said that as much as 90 percent of the nation's textiles are exported. "The Ukrainian fashion industry plays a huge role on how the world perceives our country," said Frolov. "By doing our jobs, we're building bridges with others, representing our creative natures and culture."
Timoshenko, the founder of Katimo, has her flagship womenswear store, production studio, and a café in Kyiv's historic district. Some of her 31 employees escaped; some have remained. She has stopped production, and now all revenue from orders placed on the brand's website will be donated to the Ukrainian army's Come Back Alive fund. Similarly, the budget from her café is being used to support organizations delivering food and medicine to Ukrainians. She says the brand has enough cash to keep things afloat for a while, but at the moment it's not their priority.
"We are focusing on stopping the war as quickly as possible," Timoshenko said. "We are sure that after this happens, we will be able to recover our losses."
Designer Anna October is attempting to keep her business going now that she has managed to escape Kyiv after a weeklong odyssey. She first ran to her office to pick up documents and cash, spending 24 hours in Kyiv while it was under siege. Then she and friends drove to a home in the woods near the Romanian border. When she spoke to us on March 2, she had crossed into Romania through Moldova; her team of 12 people had been moved to safety.
Like Frolov, she and her employees are working on various humanitarian efforts, but she's also looking for ways to keep her company afloat. It specializes in ethical womenswear that uses traditional knitting and embroidery techniques; she often employs elderly Ukrainian women to do the intensive handwork. Her latest collection was shown during Paris Fashion Week just a few weeks ago, and she's already in touch with manufacturers in Lithuania and Romania, has backup production in place, and is ready to collect wholesale orders from retailers. She plans to fulfill her pre-fall orders: "We will produce them abroad and we will deliver them and pay the taxes for this to my country to support the army," she said. Sales from the website will also be donated to the army.
"My grandmother, during the Second World War, she was a shooter, and — we didn't have the word 'designer' — but after that, she was making clothes," said October. "So I think this bravery, and this respect for aesthetics, and the will to make life more beautiful, I think that is in my blood."
These designers were clear that the political fabric of their nation is inextricable from their clothes; in some cases, the clothes wouldn't exist without politics.
The country is known for embroidery work like the kind October uses. During the Soviet era, Ukraine was a center of textile production for the Soviet Union, and while the industry was nearly wiped out with the collapse of the USSR, a free-trade agreement with the European Union, coupled with an influx of manufacturing from global fashion brands such as Zara, Adidas, and Hugo Boss, helped it stabilize and grow.
"There was an inner tension in the development of the Soviet fashion industry," said Jukka Gronow, a professor emeritus of sociology at Sweden's Uppsala University and co-author of Fashion Meets Socialism: Fashion Industry in the Soviet Union After the Second World War. "Regular seasonal fashion cycles and novelties did not really fit into the system of a centrally planned economy; one could almost say that they were antithetical to it."
The post-Soviet generation of designers has flipped or outrightly rejected these previous generation's ideals, leaning more toward provocation than anything.
"We were born in a sovereign Ukraine," said Frolov. "In contrast to previous conservatism, we could do anything — we had nothing to stop us."