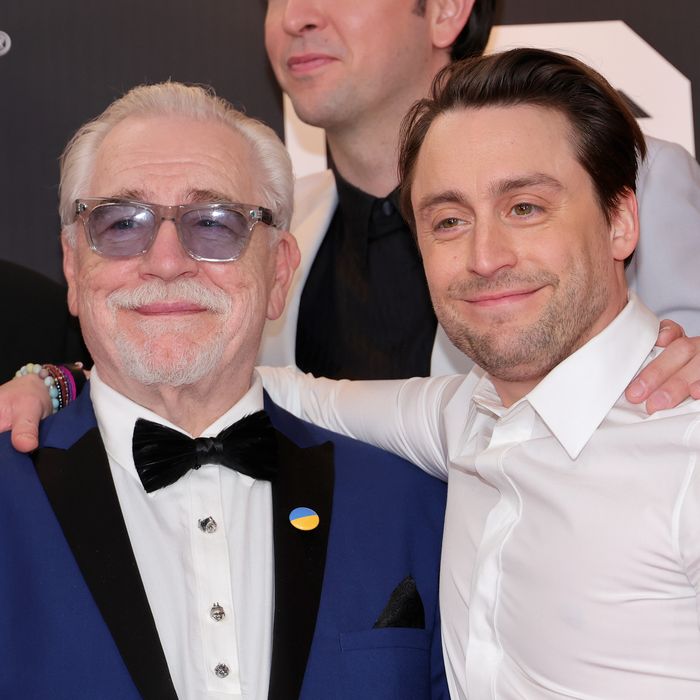 Photo: Matt Winkelmeyer/Getty Images
As a fan of both Euphoria and Succession, I have long believed that the cast of Euphoria could do Succession, but the Roys couldn't survive Euphoria high. Today, I stand corrected. During an appearance on Jimmy Kimmel Live, Brian Cox recreated Cassie's bathroom meltdown from Euphoria's second season, and now I will not rest until the entire cast of Succession has done a scene from the sparkly high school drama.
Cox took a break from playing the emotionally abusive head of Waystar Royco to step into Cassie's shoes for a pre-taped segment on Monday, March 14. In the clip, he wears his best Oklahoma outfit — a blue checkered shirt and a cowboy hat — and was superimposed into the Euphoria scene. As Logan Roy in Succession, Cox is pretty scary, but I have to say, he lacks the kind of manic energy of Sydney Sweeney, making Cassie's monologue land more frantic than tragic.
Still, it's an honorable attempt at recreating an iconic scene, and it got me thinking, what Euphoria characters would the rest of the Succession cast play if given the chance?
Obviously, Jeremy Strong would play Nate Jacobs. With his violent narcissism and major daddy issues, Nate is really just a more sadistic Kendall Roy when you think about it. Based on Kieran Clukin's chaotic Roman Roy, I think he'd make a great Maddy. Nicholas Braun could transfer his awkward Cousin Greg energy into Lexi, while I imagine Matthew Macfadyen would make an excellent Fezco. The rest are a bit harder to place, but in my humble opinion, Sarah Snook could definitely play Rue with J. Smith-Camerann as Jules and Alan Ruck as Ashtray. And I still think the Euphoria cast would do a great Succession. (Just imagine Zendaya as Kendall Roy.)
If we can't have a Euphoria/Succession crossover event, making these casting dreams a reality is really the least HBO could do.