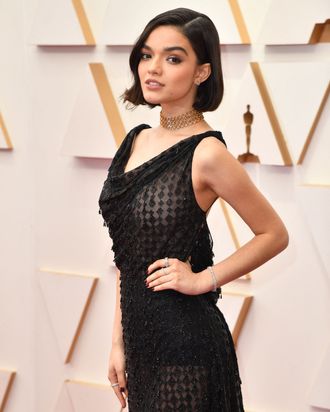 Photo: ANGELA WEISS/AFP/AFP via Getty Images
We did it, Joe! One week after lamenting her lack of invitation, Rachel Zegler is at the Oscars. The West Side Story star made a triumphant entrance at the ceremony's red carpet on Sunday, March 27, wearing a black embroidered Dior Haute Couture gown.
Zegler joked about needing a gown to wear at the Oscars just five days ago, when she was officially announced as a presenter. And it looks like Dior heard her call. The actor also wore a Dior gown to the West Side Story premiere in December, making this Oscars red carpet a nice full-circle moment. (She also wore Dior Haute Couture to the Met Gala.)
Zegler's arrival was highly anticipated, especially after her invite snub. You'd think that making her feature debut in a movie nominated for Best Picture would have nabbed Zegler a seat at the Oscars, but alas! The actor had to take a bit more of an unconventional route to a seat at the event. It took a few Instagram comments, a public outcry, and a lot of tweets. But after revealing that she hadn't been invited to the Oscars on Instagram, Zegler nabbed both a seat and a presenter gig at this year's awards.
Though she originally said that she wasn't invited, Zegler later implied that it was a scheduling conflict that had originally kept her from the awards, as the actor is currently filming Disney's new live-action Snow White in England. "The absolutely incredible team at Disney and our Snow White producers worked some real-life magic, and I am thrilled to be able to celebrate my West Side Story fam at the Oscars," she wrote when she confirmed her appearance on Wednesday, March 23. Scheduling snafu or genuine snub, what matters is that Zegler made it to the Dolby Theater. So now she can sit through three-plus hours of forced banter and awkward speeches. A true Oscars experience!