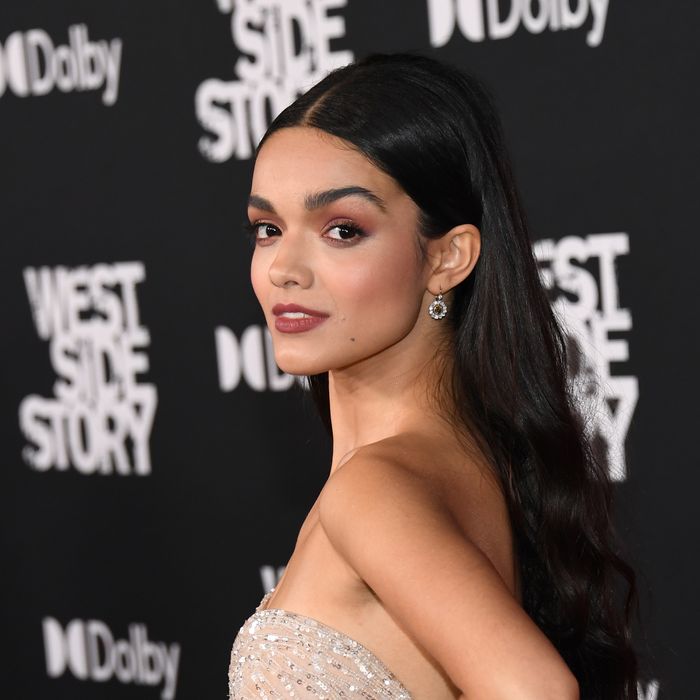 Photo: Jon Kopaloff/WireImage
Last weekend, actress Rachel Zegler took to Instagram to reveal that she hadn't been invited to the Academy Awards, despite the fact that West Side Story — which stars Zegler in a leading role — had been nominated for seven Oscars, including Best Picture. Now, the Academy has apparently rectified its mistake and invited Zegler to be an Oscar presenter.
Zegler, who made her feature-film debut as Maria last year, has been a red-carpet staple of this awards season. Earlier this month, she and West Side Story co-stars Ariana DeBose and Mike Faist did back-to-back red carpets at the BAFTAs and the Critics Choice Awards. But Zegler's more than just a budding fashion icon. Her performance in West Side Story won her a Golden Globe for Best Performance by an Actress in a Musical or Comedy and earned her nominations from critics' associations across the country. Many predicted she had a real shot at a Best Actress Oscar nomination, which makes her initial lack of an Oscar invitation not just surprising, but genuinely confounding.
Zegler revealed the news of her missing invite a week before the awards after a fan commented on her most recent Instagram post that they couldn't wait to see what she would wear to the Oscars. "I'm not invited so sweatpants and my boyfriend's flannel," she replied. In a follow-up comment, she explained that while she "tried it all," it didn't look like she would be making it to the Oscars. "I will root for West Side Story from my couch and be proud of the work we so tirelessly did 3 years ago." Noting that she'd only be able to attend if "some last minute miracle occurs," the actor thanked her fans for their support. "Thanks for all the shock and outrage — I'm disappointed, too. But that's okay."
Following public outcry on Sunday, March 20, Zegler took to Twitter to thank fans for their support, but also recognized "a lot of work behind the scenes goes into [award shows]." She ended her message by asking fans to "respect the process."
After three days of intense backlash and calls on the Oscars to add Zegler to the guest list, the Academy officially announced that Zegler would be attending as a presenter on Wednesday, March 23 — just four days before the ceremony. "The absolute incredible team at Disney and our Snow White producers worked some real-life magic, and I am thrilled to be able to celebrate with my West Side Story fam at the Oscars," she tweeted. The actor seemed to imply that the entire thing might have been an issue with COVID protocols and scheduling, as she's currently filming Snow White in London. "It's not lost on me that being able to shoot a film the scale of Snow White during COVID is not easy, and any adjustment to our schedule is no small sacrifice," she continued. She also thanked producers and the Academy for the presenting gig, adding, "now, what to wear …"
The Oscar invitation process is a bit of a mystery. According to the Los Angeles Times, nominees each receive two tickets (but can request two more), as do presenters, and a sizable number of tickets are set aside for lawyers, production teams, media, accountants, and other insiders who support the Academy. Studios reportedly also get a significant share of tickets, and in theory the number should be proportional to the number of nominations. With seven nominations, West Side Story is the third-most nominated movie this year (tied with Belfast), so one expects the film's team received a good number of tickets.
Of course, not every cast member of an Oscar-nominated movie gets an invite, but failing to invite Zegler was a notably nonsensical choice. She's had a huge year, is a constant showstopper on the red carpet, and has cultivated a massive fanbase on Twitter. She is also one of a handful of young Latinx stars to headline a Hollywood blockbuster.
While I'm glad Zegler will be at the Oscars after all, her initial exclusion (despite current rumors of a scheduling conflict) sends a pretty clear message to Latinx actors that starring in a beloved film will only get you so far. As One Day at a Time showrunner Gloria Calderón Kellett put it on Twitter, "How about the rare time that Latine people have a movie nominated for an OSCAR you invite the lead."