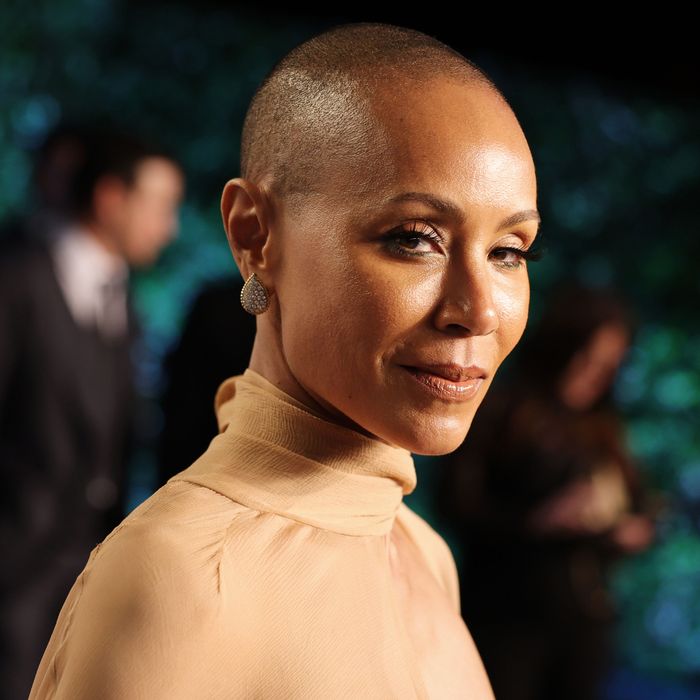 Photo: Rich Fury/VF22/Getty Images for Vanity Fair
For anyone living under a rock, at last night's Academy Awards Chris Rock made a joke about Jada Pinkett's bald look and her husband, Will Smith, got up from his front-row seat to slap him across the face. What was missing from the conversation was the reason for Pinkett Smith's look: She has alopecia, which has caused her to lose her hair. This is a good time to shed some light on the incredibly common autoimmune disease, which affects about 6.8 million people in the U.S., and which nearly one-third of women experience, in some form, during their lives.
What is alopecia?
Alopecia is the medical term for "bald" or "hair loss." This encompasses all kinds of hair loss, including male-pattern baldness (which women may also experience). But the form of alopecia that has taken center stage as a result of last night's Academy Awards is alopecia areata — an autoimmune skin disease that can cause hair loss on the scalp, face, and other parts of the body. And according to a 2019 study conducted by The Journal of the American Academy of Dermatology, alopecia areata occurs more frequently among Black Americans.
The three main types of alopecia are: alopecia areata (areata means patchy) which appears as a patchy baldness anywhere on the body; alopecia totalis which is when someone loses all hair on their scalp; and the more rare alopecia universalis, which is when someone loses all of the hair on their body.
What causes it?
Alopecia develops when your immune system attacks healthy hair follicles, causing the hair to fall out. Unfortunately, scientists aren't sure what causes this to happen. Although this hair loss can happen at any age, most people develop alopecia as children or teenagers, and about half experience hair regrowth within 12 months. Afterward, the hair may not fall out again, or it may continue falling and growing back in cycles.
Is there a cure?
There is currently no cure for alopecia. And although there are many treatment options, there is no single universal one. "I think it's very important to get a diagnosis before you start treating your hair loss. Many people are trying things they see in the store and ordering things on the internet," says New York City dermatologist Dina Strachan of Aglow Dermatology. "Different types of hair loss are going to require different treatment." Board-certified specialists are able to perform a biopsy in order to diagnose the condition and help determine the best method of treatment. Some people can opt for topical or injected steroids, Janus kinase inhibitors, platelet rich plasma, anti-inflammatory medications, Rogaine, or hair transplants, keeping in mind that treatment doesn't guarantee that a person's hair will regrow.
About last night (kinda)
In March 2018, during an episode of Jada Pinkett Smith's Facebook series, Red Table Talk, about body image and insecurities, the star spoke publicly about her experience with alopecia. "It was one of those times in my life where I was literally shaking with fear," said Smith. She referred to the experience as "terrifying" when recalling losing handfuls of hair while in the shower. "My hair has been a big part of me," she said. "Having the choice to have hair or not and then one day being like, Oh my God, I might not have that choice anymore."
In December 2021, Smith posted an update on her hair, showing a new patch of hair loss that she said would "be a little bit more difficult" to hide — referring to a line on the top of her head. And she wrote in her caption, "Mama's gonna have to take it down to the scalp so nobody thinks she got brain surgery or something. Me and this alopecia are going to be friends … period!"
For 43-year-old Mabel Peralta, these conversations that Pinkett Smith and Representative Ayanna Pressley — who first spoke about her alopecia areata diagnosis in 2020 —are reaffirming. "Oh my God — I cry," Peralta told NBC News earlier this year. "I literally cry every time I see her [Pinkett Smith] talk about it, because I'm like, I get it. I love the fact that she's so open about it, and I'm looking forward to more celebrities talking about it, because you know, everyone talks about weaves and the wigs and this, that and the third — but talk about alopecia. It's such a big deal."