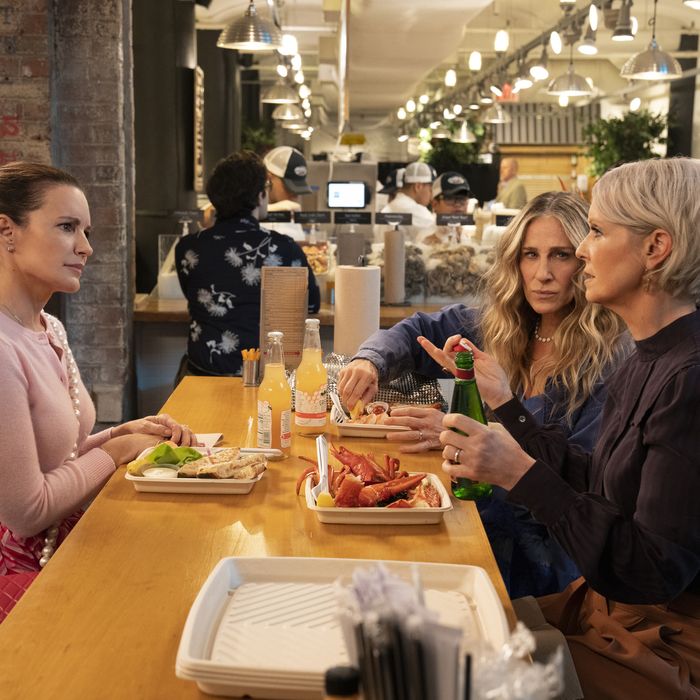 Photo: Craig Blankenhorn / HBO Max/HBO
Well, it's happening. HBO Max has confirmed that its Sex and the City revival, And Just Like That …, will return for a second season.
To be fair, we were warned. While Us Weekly reported in December that the allegations of sexual assault facing Chris Noth had stalled any discussions of future seasons, it seems that they resumed shortly thereafter. The show started threatening a second season earlier this year, when reports suggested that HBO was considering picking it up for a season two. At the time, one source claimed, "They may feel that they want to prove a point that they can make a second season stronger and that it was valid to bring it back for fans." And now we will all be suffering through it.
It's true that a second season might be able to provide the redemption And Just Like That … is searching for. The reboot was supposed fix the wrongs of Sex and the City — the overwhelming whiteness, the lack of LGBTQIA+ representation, the economic fantasy — but And Just Like That … has earned its own criticisms on all those same fronts. It hasn't so much righted the wrongs of the past as much as it has extended them and brought them into the 2020s.
None of the cast has been confirmed, and given this show's unique perseverance, there's no guarantee all of the remaining stars will return. Cynthia Nixon gave a very noncommittal answer when asked about continuing to participate And Just Like That … "Even though I'm an executive producer and I got to direct an episode, I am not a writer. And so, that is one of the great privileges of being a writer, that it's not my job to figure it out, thank god," she told Entertainment Tonight in a separate interview. Not a super-enthusiastic response, but it's not a no. At least one of the new cast members is onboard, though: In early January, Sarita Choudhury told Entertainment Tonight, "I would love a second season." At the end of the day, it doesn't really matter who's in — the show can always fabricate any missing characters via iMessage.
This post has been updated.