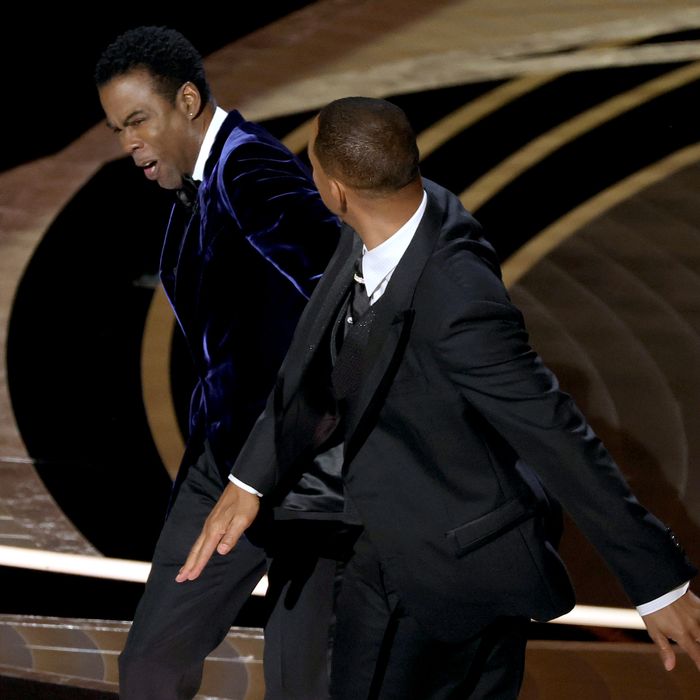 Photo: Neilson Barnard/Getty Images
At around 10 p.m. ET on Sunday, March 27, everyone watching the Oscars collectively asked, "Was that real?" and "What just happened?" Will Smith had just walked up onto the Oscars stage to slap Chris Rock across the face as the comedian was in the middle of presenting the award for Best Documentary. Now, the Oscars have been known to do bits that have fallen flat before, so it took everyone a moment to realize that, No, this was really happening.
Chris Rock arrived onstage to do some light roasting of the audience, including making a joke about Javier Bardem and Penélope Cruz, but then he turned his eyes onto Will Smith and his wife, Jada Pinkett Smith. "Jada, I love you, G.I. Jane 2, can't wait to see it," he said, making a crack about Jada's shaved head look. Whoever he was going to turn on next was spared, as Smith then walked up on stage, went straight for Chris, and slapped him. In the U.S., the telecast was quickly muted, leaving many to wonder if what was happening was even real. Tweets from the media present and uncensored video from around the world quickly answered that question: Yep, it was very, very real.
According to the uncensored video, Smith slapped Rock and then yelled, "Keep my wife's name out of your fucking mouth." Rock yelled after him that it was a "G.I. Jane joke!" After a few moments, the sound came back and Rock went on with his presenting duties. Later, when Sean Combs arrived onstage to present a retrospective on The Godfather, he addressed the scuffle, saying, "Will and Chris, we're gonna solve that like family at the Gold Party."
Roughly an hour later, Smith was back onstage — accepting the award for Best Actor. In his speech he said:
Richard Williams was a fierce defender of his family, in this time of my life, in this moment, I am overwhelmed by what God is calling on me to do and be in this world. I'm being called on in my life to love people and to protect people. I know to do what we do, you've got be able to take abuse, to have people talk crazy about you, you have to be able to have people disrespecting you, and you have to smile and pretend like that's okay … I want to be a vessel for love.
Smith went on to apologize to the Academy and his fellow nominees, admitting "love will make you do crazy things." According to Vanity Fair senior correspondent Rebecca Ford, during the commercial break that followed, Denzel Washington approached Smith and spoke to him briefly. "Denzel now has his arm around Jada and is kneeling next to her even though the show has started," she tweeted. In his acceptance speech, Smith revealed what Washington told him: "Denzel said to me, 'At your highest moment, be careful — that's when the devil comes for you.'"
Smith issued a more formal public apology the following day, on Monday, after the Academy announced it would be launching a formal review of the incident. In a statement shared to Instagram, Smith addressed both the Academy and Rock directly, saying, "Violence in all its forms is poisonous and destructive. My behavior at last night's Academy Awards was unacceptable and inexcusable." The actor also noted that he accepts jokes at his own expense as "part of the job, but a joke about Jada's medical condition was too much for me to bear and I reacted emotionally." He continued, apologizing to Rock, and admitting that he was "out of line and I was wrong." Finally, he apologized to the Academy and "everyone watching around the world," as well as "the Williams Family and my King Richard family."
Jada has been open about her struggle with alopecia and hair loss, which is why she decided to shave her head. In December of 2021, she took to Instagram to explain that she would be "[taking] it down to the scalp," adding, "Me and this alopecia are going to be friends." It's unclear if Rock knew about her condition before he decided to tell the joke, which was reportedly unscripted. The comedian has yet to comment publicly about the incident.