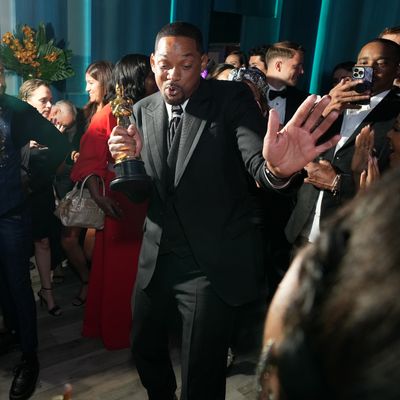 Photo: WireImage for Vanity Fair
We can all agree on one thing: Last night was an incredibly eventful evening for Will Smith. After striding onto the Oscars stage to slap Chris Rock for a joke he made about Jada Pinkett Smith's shaved head, Smith went on to win the award for Best Actor. He then gave a teary speech in which he talked about protecting his family and apologized to the Academy and his fellow nominees, receiving not one but two standing ovations. And that wasn't even the end of the night. After that, he apparently hit the dance floor hard at the Vanity Fair Oscars after-party.
Smith was all smiles as he rolled up to the event with his Oscar in his hand, accompanied by his very good-looking family. The award for his performance in King Richard — which is Smith's first Oscar — is the fifth time a Black man has ever won the award, and Smith looked ready to celebrate. It sounds like he wasn't the only one: He reportedly received hugs from his unsuspecting Oscars table-mate Lupito Nyong'o, as well as Lena Waithe and Trevor Noah, but spent most of the night on the dance floor, surrounded by other stars. A few clips show him grinning and waving his Oscar in the air while bouncing along to a medley of his own songs, with Jada reportedly not far from his side.
As for Rock, Page Six claims he went to a different Oscars after-party, where he seemed "unfazed" by the night's earlier events. He has yet to comment publicly on the incident aside from what he said onstage in the immediate aftermath, though a statement from the LAPD said he declined to file a police report. Smith was cryptic when asked about the incident at the party, telling Variety, "It's all about love."
Maybe it was that pep talk from Denzel Washington, or the fact that, according to Diddy, the two of them had already cleared the air by the time the after-party started, but this was a truly impressive 180. Meanwhile, the Academy announced on Monday that they have launched a formal review into the incident.