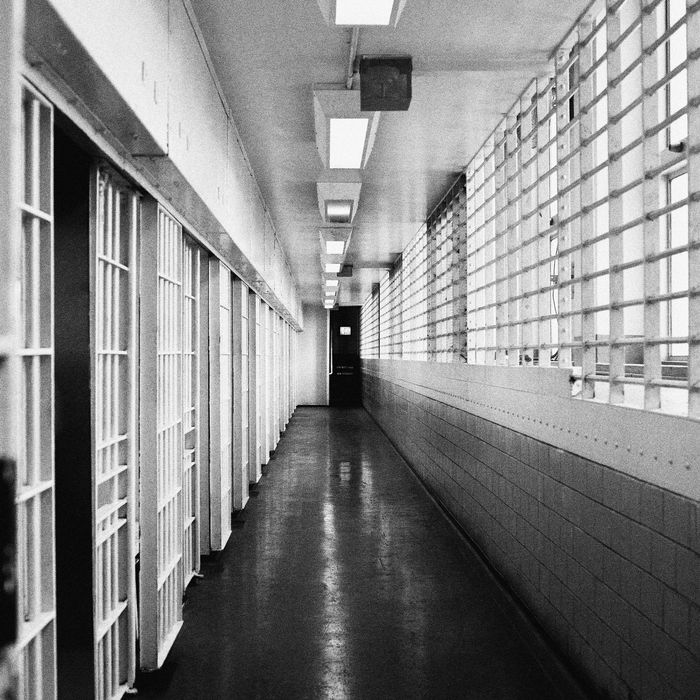 Photo: WIN-Initiative/Neleman/Getty Images
Memorial Day weekend of 2003, I had my first run-in with law enforcement. I had just completed my freshman year of college, and it was my first Saturday night back home in Baltimore. I immediately linked up with some friends, and we drove to a public park and reservoir to partake in some herbal libations. Within minutes, my mother's vehicle was surrounded by six police vehicles and a paddy wagon. We were separated, questioned, and promptly escorted in police cars to the local detention center. All for less than three grams of marijuana.
At the detention center, I was led to a separate area for women. Two female officers performed noninvasive body searches on my best friend and me. Afterward, they read our charges: trespassing on posted public property after hours and possession of CDS (controlled dangerous substance). Next came fingerprints, mugshots, and bookings. We were going to spend the night at the Baltimore County Detention Center. For less than three grams of marijuana.
The next morning, we were released on our own recognizance with a manila envelope containing our shoelaces, jewelry, and other personal belongings. We hadn't gotten our one phone call the night before, so we used the pay phone outside of the detention center. I vividly remember being more terrified to tell my mother that her car was impounded—she would have to find alternate transportation to church that morning—than I was to tell her that I had been arrested. Since it was a holiday weekend, her car would have to remain at the impound lot until Tuesday morning. For less than three grams of marijuana.
Months later, the judge ordered me to probation after chastising me at length in court for getting caught up "with the weed and the law" while majoring in political science at Washington College.  He reminded me that I could have spent more than a night in jail, my life ruined. For less than three grams of marijuana.
I was grateful but shocked beyond belief. I went to school with white kids from extremely wealthy families whose dorm rooms were raided for the "hard stuff." They seemingly had no fear of opportunities lost or lives ruined. But I smoked a little pot in an empty park at night and now my life was at risk of ruin. Crazy, right?
Flash forward to 2011. I am a newly hired policy associate on the Job Opportunities Task Force, a Baltimore-based nonprofit working to eliminate educational and employment barriers to high-wage jobs for low-wage workers via research, policy, and programming. I'm sitting in a meeting focused on the significant segment of Baltimore's adult working population that is effectively unemployable as a result of its interactions with law enforcement. Business leaders, policymakers, labor leaders, and workforce-development practitioners were increasingly concerned. The local workforce was aging. Businesses needed workers. Yet thousands of able-bodied job seekers were disqualified from serious consideration by their criminal records. Individuals were in desperate need of a second or third chance, hungry for someone to give them a shot.
I found myself distracted. People can't get jobs or secure housing because they have a criminal record? How are they supposed to survive? Why are these challenges most pronounced in certain Black communities? Is it really a crime to be poor and Black in Baltimore City?
Now, I was born and raised in Baltimore City. When I was growing up, it was well known that an overwhelming majority of Black Baltimoreans had interacted, whether directly or indirectly, with law enforcement in the name of "safety." During the '90s, it was the norm for Baltimore to average more than 300 murders per year, and to address the murder rate, the Baltimore Police Department — with the support of local political leadership — aggressively pursued a "zero tolerance" mandate. Its targets? Predominantly Black low-income neighborhoods. A walk to school, work, or home could land you in central booking for the night. They called these "quality of life crimes." We called it Living While Black. In less than four years, those policies led to more than 100,000 Black Baltimoreans being in possession of some form of arrest record that would appear in a routine background check. That's 15 percent of the local Black population, which would struggle to secure employment, housing, public benefits, financial aid, and so much more as a result of zero-tolerance policies purportedly designed to keep them "safe."
The NAACP and the local ACLU successfully sued the BPD for its unconstitutional, racially discriminatory policies, but the damage was done. Black communities were targeted and unnecessarily surveilled, their residents criminalized and left with permanent criminal records that would impact their ability to be economically stable and mobile. And no one was safer.
In February 2015, Washington, D.C.–based think tanks published "The Right Investment: Corrections Spending in Baltimore City." The report found that Maryland taxpayers spend nearly $300 million annually to incarcerate people from Baltimore City, including $17 million on residents of a single community: Sandtown-Winchester/Poplar Hill. This neighborhood sent the most people to state prison and had the greatest number return home from incarceration on parole or probation in 2014. This community also experienced the highest levels of unemployment, emergency narcotics calls to 911, vacant or abandoned housing, and truancy in the entire city. Simply put: Maryland was spending the most money to incarcerate the poorest neighborhood in Baltimore.
Two months later, in April 2015, the world watched as Black Baltimoreans protested en masse in response to the murder of Freddie Gray at the hands of the Baltimore Police Department (BPD). Within 48 hours of his death, my city took to the streets to repeat what we'd been yelling for years: Decades of overinvestment in and overreliance on policing, incarceration, and economic divestment in overpoliced neighborhoods was not working. In fact, it directly contributed to the harm and plunder devastating working-class Black neighborhoods in Baltimore City. They called it a "riot." We called it the Baltimore Uprising. Black Baltimore was revolting against investments in policing and incarceration at the expense of healthy, safe, economically stable communities and neighborhoods.
At that exact moment, I charged myself with infiltrating any space focused on economic empowerment to force a discussion of removing barriers to education, employment, and business ownership for individuals with a criminal background, with the aim of decriminalizing poverty and race. Community organizing and public-policy advocacy would be my vehicle. Over the next ten years, three of which I spent as chief executive officer, I would lead efforts at JOTF to advance statewide policy reforms on behalf of workers with a criminal record. These include, but are not limited to, narrowing the use of criminal records in college admissions and hiring decisions via Ban the Box on initial job and college applications, criminal-record expungement, development and implementation of a statewide Justice Reinvestment Act to reduce prison populations and reinvest savings into community-based recidivist programming, and reducing reliance on cash bail in pretrial decisions, given its proven ineffectiveness as a public-safety tool.
These challenges are not unique to Baltimore City. New York City spends $178 million to incarcerate 320 women annually. That's $556,539 to incarcerate one woman. The overwhelming majority are Black and Brown and from East and Central Harlem, Stuyvesant Heights, and East New York — all low-income, working-class neighborhoods with a history of overpolicing, surveillance, and limited economic opportunity. Nationally, one in eight individuals released from state prisons each year is a woman. In New York, 14 percent of those released from prison and/or jail annually are women. Of course, the systems-involved population is not a monolith. In 2018, Prison Policy Initiative found that formerly incarcerated Black women in particular experience severe levels of unemployment and are overrepresented in part-time and occasional jobs upon reentry
This is what led me to leave my hometown of Baltimore City for New York this past November to lead the Women's Prison Association as its first Black woman executive director. Founded in 1845 by Quaker abolitionists, 20 years before the ratification of the 13th Amendment, which was supposed to "end slavery," WPA is the nation's first organization to support women impacted by incarceration. WPA recognizes the challenges and barriers specific to women involved in the carceral, court, and child-welfare systems and works tirelessly to ensure these women and their children are free, safe, and independent. And for the first time, WPA's leader looks like its constituents and can relate a little bit more.
This isn't my first rodeo. I'm not blind to the pushback I'll likely encounter. I've experienced excitement around authentic leadership that reflects the population served only for that leadership to then be questioned as "too authentic" and eventually "incompetent." I'm not naïve, nor do I ignore that I'm at the center of a Venn diagram in leadership. But therein lies the opportunity to challenge these systems.
It is still not lost on me that, for the second time in my professional career and at only 37 years old, I have stepped into an executive role as the first Black woman to do so. My immediate predecessors at WPA were white women, and its board of directors has an overwhelming majority of white women. But as of December 2021, for the first time in its 176-year history, a Black woman will lead WPA into the next phase of its future. A Black woman from Baltimore who once spent the night in jail for smoking weed after her freshman year of college.
A community organizer and policy advocate from Baltimore, Caryn York is the new Executive Director of the New York-based nonprofit advocacy organization Women's Prison Association.