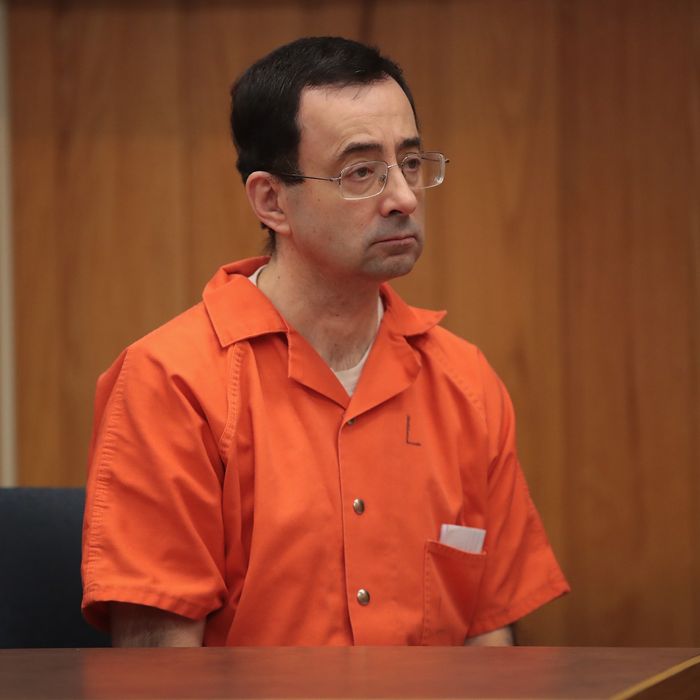 Photo: Scott Olson/Getty Images
Survivors of Larry Nassar's abuse continue to fight for justice. Thirteen survivors filed claims against the FBI this week for $10 million each — $130 million in total — for what they allege was a botched investigation into Nassar in 2015.
Nassar was convicted in 2018 after pleading guilty to seven counts of criminal sexual conduct and is currently serving what is essentially a life sentence. He has been accused by over 500 women, many of whom claim that he used his position and power as a gymnastics doctor to sexually abuse them. The case gained national attention, in part thanks to the Olympic gymnasts who accused him of abuse. (Among them were Aly Raisman, McKayla Maroney, and Simone Biles.) Nassar's abuse allegedly spanned decades, and his crimes have already led to multiple settlements from other agencies. In 2018, Michigan State University agreed to pay a $500 million settlement with 332 women and girls who accused the school, which employed Nassar, of failing to investigate complaints made against the doctor. In December of 2021, USA Gymnastics and the U.S. Olympic & Paralympic Committee reached a $380 million settlement with over 500 gymnasts who were abused by Nassar. Now, it seems, it could be the FBI's turn.
A Justice Department investigation concluded last year that FBI agent Michael Langeman and his boss, agent-in-charge Jay Abbott, had failed to respond to a 2015 allegation that Nassar was abusing gymnasts in his care "with the urgency that the allegations required." (Langeman was fired after the report went public, and Abbott had already resigned.) The FBI was reportedly alerted to Nassar's behavior in 2015, receiving complaints from three young gymnasts. The New York Times later reported that it took the FBI agents a full year before they interviewed the survivors, and in that time dozens of other women and girls reported being abused by Nassar. One of the gymnasts involved in the 2015 investigation, Maroney, described the botched effort during her 2021 Senate testimony. "Not only did the FBI not report my abuse, but when they eventually documented my report 17 months later, they made entirely false claims about what I said," she testified. "They chose to lie about what I said and protect a serial child molester rather than protect not only me but countless others."
At the time, FBI director Christopher Wray offered the gymnasts a public apology, acknowledging the failed investigation. "I'm especially sorry that there were people at the FBI who had their own chance to stop this monster back in 2015 and failed. And that's inexcusable. It never should have happened," Wray said at the time.
Now, 13 women who claim to have been assaulted by Nassar after 2015 (though some were reportedly also abused prior to that year) are asking the FBI to put its money where its mouth is. "We spend so much energy and resources encouraging children to come forward when they have been abused, so the fact that people came forward to the most powerful law-enforcement agency in the world and were rebuffed — it's a slap in the face," Jamie White, an attorney representing the 13 women, said in a statement to E! News.
The FBI has six months to respond to the claim.