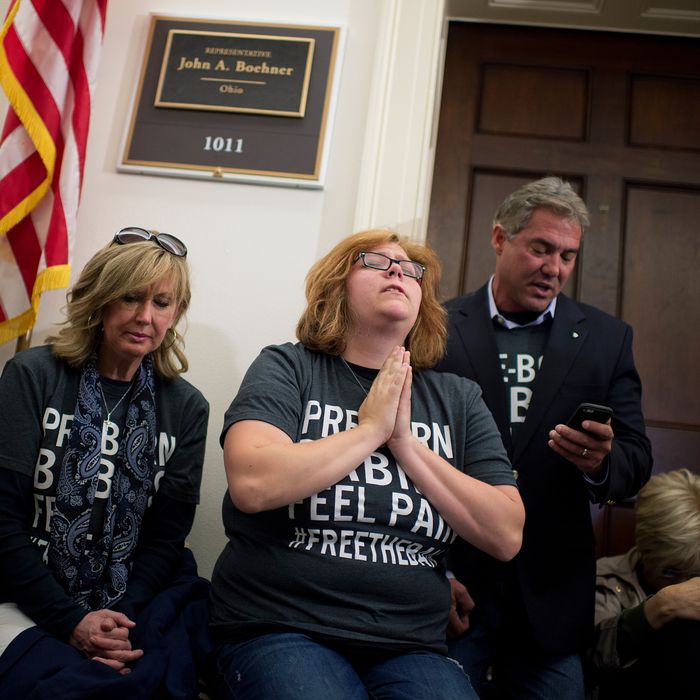 Lauren Handy, mid-prayer outside former Speaker of the House John Boehner's office in 2015.
Photo: Tom Williams/CQ-Roll Call, Inc via Getty Images
Police in Washington, D.C., recovered five fetuses from an anti-abortion activist's home last week after receiving a tip about potentially biohazardous material inside. According to a Metropolitan Police Department spokesperson, the medical examiner's office collected the fetuses around 12:30 p.m. March 30 and an investigation is under way.
The department did not confirm the activist's identity, but according to local CBS affiliate WUSA9, it's Lauren Handy, who happens to be one of nine defendants a federal grand jury recently indicted for blockading an abortion clinic in October 2020. Handy is the director of activism for Progressive Anti-Abortion Uprising (PAAU), a group that co-opts rhetoric from social and reproductive justice movements and bends it to fit an extreme anti-choice agenda. It is presently unclear what she — sources familiar with Handy say she uses both she and they pronouns — might have had planned for the fetuses, which officials removed from her basement in biohazard bags and coolers. When WUSA9 found Handy sitting outside her rowhouse, though, she said she expected the bust "sooner or later." Handy reportedly declined to comment on the evidence police confiscated, saying only that "people will freak out when they hear." The MPD did not elaborate on the substance of the tip nor on how Handy may have gotten possession of the fetuses — nor how many PAAU might actually have in its possession.
On social media, Handy has suggested that she stole — "liberated," she might say — them from the fetal-tissue and organ bank at the University of Washington in Seattle, to which PAAU purportedly "gained access" on March 9. According to the Guardian, the university's cold room did contain donated fetal remains at the time: They're used to study birth defects and other congenital health issues. Per a university spokesperson, they were scheduled for "respectful cremation." But the university says that, on the date Handy named, the room was locked and none of its contents removed.
In an April 5 press conference, Handy and Terrisa Bukovinac, PAAU's founder and executive director, proposed a different story. According to Jezebel, the pair said that on March 25, they were protesting outside the Washington Surgi-Clinic in D.C., when they purportedly intercepted a pickup by Curtis Bay Medical Waste. Assuring the driver they would provide a "proper burial," they claimed to have accepted a box filled with 110 sets of fetal remains from first-trimester abortions, along with the five fetuses. Handy and Bukovinac allege that these came from dilation and extraction abortions, a procedure conservatives in Congress banned in 2003. (Even so, their law makes exceptions for abortions performed to save a patient's life.) Another speaker at the press conference accused Curtis Bay of collecting and incinerating "the corpses of aborted babies to make electricity for the households and businesses of the Baltimore area," a wild and weighty complaint.
But Curtis Bay categorizes fetal remains as "unacceptable waste," to be kept separate from other forms of medical waste. In a statement to WSUA9, the company said, "Curtis Bay provides its clients with medical waste bags and boxes to use in a manner that complies with applicable law, client agreements ,and company policy." The statement also denied that anyone passed inventory to Handy or Bukovinac: "On March 25, a Curtis Bay employee took custody of three packages from the Washington Surgery Center (Washington Surgi-Clinic) and delivered all of them to Curtis Bay's incineration facility. At no time did the Curtis Bay employee hand over any of these packages to the PAAU or other third party, and any allegations made otherwise are false." So for now, the mystery of the fetuses' origins continues.
As is probably pretty clear at this point, Handy is a committed abortion opponent. In addition to her affiliation with PAAU, she founded a group called Mercy Missions, which claims to use "creative interventions to dismantle violent institutions" — by which she means abortion providers — "and systems that target the most vulnerable in our communities." According to Rewire, Handy calls herself a "Catholic anarchist" and makes a habit of barging into clinics to pressure patients into canceling appointments. In the image above, she can be seen kneeling in prayer outside then–House Speaker John Boehner's office in 2015 over a canceled vote on a 20-week-abortion ban (which the House later passed). Per WUSA9, Handy's court records list arrests for unlawful entry, unlawful assembly, and blocking entrances as well as trespassing complaints. And in October 2020, she allegedly assumed the name "Hazel Jenkins," posing as an abortion patient in order to gain access to the Surgi-Clinic.
According to the indictment, Handy and her alleged co-conspirators "forcefully pushed" inside once staff — believing Handy to be the morning's first appointment — opened the door. Then, according to court documents, Handy directed their cohort to barricade the doors, tying and chaining themselves together to block the entrances. The filing says that as real patients began showing up, the group physically prevented them from getting scheduled treatment, apparently livestreaming the whole thing on Facebook. Now all nine are accused of violating the Freedom of Access to Clinic Entrances (FACE) Act, which criminalizes the obstruction or destruction of reproductive-health centers and is also meant to keep anti-choice activists from threatening or injuring patients. Per the New York Times, each of the defendants could face up to 11 years in prison plus three years of supervised release and a $350,000 fine. Handy has also been charged for a similar stunt in Michigan, in which she and three other protesters allegedly entered a Flint clinic and refused to leave.
As for the fetuses, questions obviously remain. The MPD's investigation continues, while PAAU claims that the "whistleblowers who received the fetuses" are "connected" to the group indicted for the Surgi-Clinic occupation. On Twitter, the group has also shared a letter signed by attorney Steve Cooley — who, as Jezebel notes, previously represented David Daleiden and the Center for Medical Progress, purveyors of the debunked and deceptively edited Planned Parenthood videos — alerting police to a potential crime. In Cooley's mind, the probable offense wasn't the mysterious appearance of five fetuses, but the possibility that "some of the fetuses were a result of late-term abortion(s) or possibly live-birth abortions," a bogeyman procedure invented by anti-choice activists. In any case, we will continue to update as new details emerge.
This article has been updated.