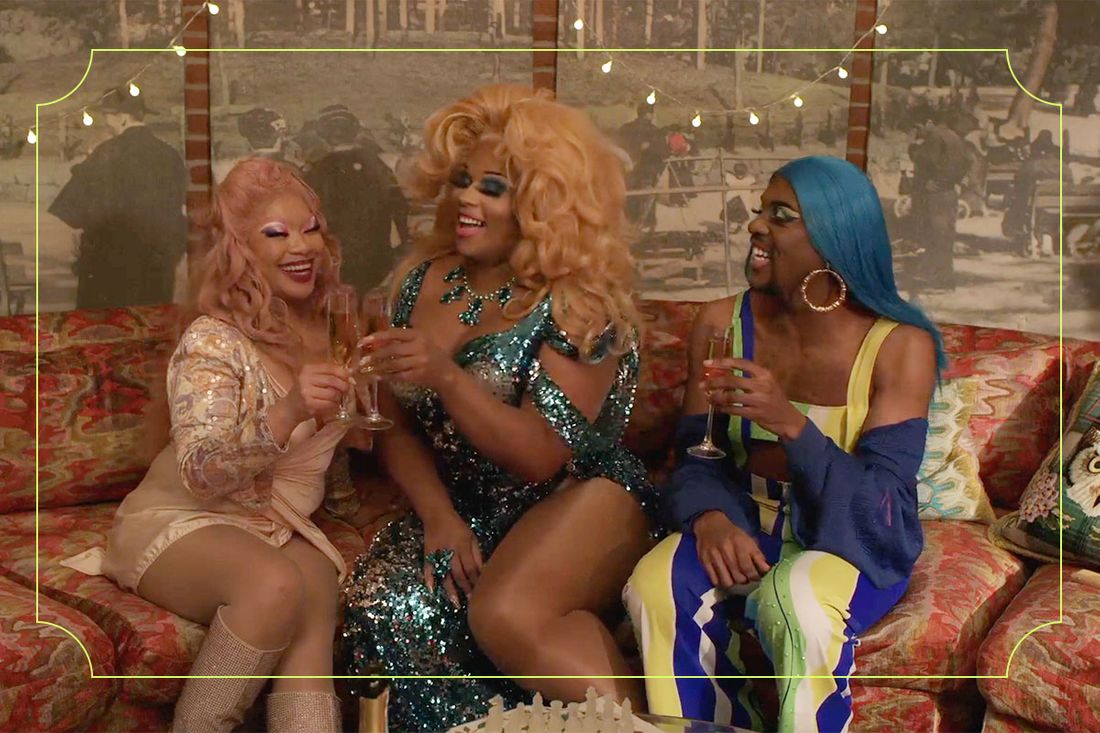 Photo: [Left to right] Bibingka Mama, Peppermint, Kizha Carr
Ah, brunch — the ideal Sunday afternoon activity. For some, it's a great time to indulge in pastries after church. For others, it's the opportune moment for letting loose. But for Miss Peppermint — New York-based drag queen, actress, and singer — brunch is so much more than playful banter and sipping on a cocktail. It's a time to get together with people you love and support, to enjoy a meal, and share juicy gossip — spill the tea, puh-lease! While she's best known for her sumptuous performances on RuPaul's Drag Race (which you can stream now on Prime Video with a membership), she also loves to put on some tunes and serve up delicious food for her close girlfriends at home, with the speedy delivery help of Amazon Prime, of course.
How does a chic, party-loving, friend-group-cultivating, multi-tasking activist host the perfect brunch? We asked Peppermint, during a pastry-perfect, luxurious brunch at Brooklyn's Lalita Loft with fellow drag queens Kizha Carr and Bibingka Mama, exactly how it should be done. Below are her best tips to be the hostess with the mostest, and for the brunch-fabulous items from Amazon Prime that'll give your gathering that extra bit of glam.
"Today, I decided to break out a really important gown. This gown is one that I wore on Ru Paul's Drag Race during the Roast Challenge, which I won. And it always makes me feel empowered. It's one of the oldest gowns that I have. It's an old faithful and I haven't pulled her out in a while, but today's the perfect occasion. We're going to do a classic drag brunch. You need a classic drag sequin gown." You can stream the hit series on Prime Video as part of your Prime membership.
"At a drag brunch, everybody should wear lipstick, some glitter, and a pair of lashes. It's necessary at every brunch. Even if you're not in drag, you better come into my brunch with some lashes! There better be glitter on somewhere."
"What makes brunch great is drag, and what makes drag brunches great are friends and family, music, and plenty of mimosas. Laughter and laughter tears make for the best brunch moments."
"I do like to theme. We don't have to theme the brunch, but I do like to have a themed playlist, and [go] with an entire genre, such as a hip hop brunch or let's do Latin music or whatever. But if you're not going to go that deep, then it's really fun to do a brunch that progresses through the decades with the music. So we start out in the beginning and we're serving some 50's music, and then going through the '60s and 70's because people start to turn up as it goes through. If they're drinking age now, then they were around in the '90s and early 2000s — then that's usually the sweet spot." There are thousands of party songs available on Amazon Music as part of your Prime membership, and Alexa will blast them in all the right ways.
"If you're going to serve food, no leftovers! There are no leftovers here. We're making the food, we're getting the food fresh, getting it freshly delivered, whatever. But don't be pulling something out of your fridge!" Amazon Prime has all you need for the best brunch menu through ultra-fast grocery delivery included with your Prime membership.
In order to prepare for your next (extra) extravaganza, don't forget to consult Miss Peppermint's tips, bring the pizazz, and discover all the essentials, from glitter to gowns, on Amazon Prime.
This advertising content was produced in collaboration between Vox Creative and our sponsor, without involvement from Vox Media editorial staff.