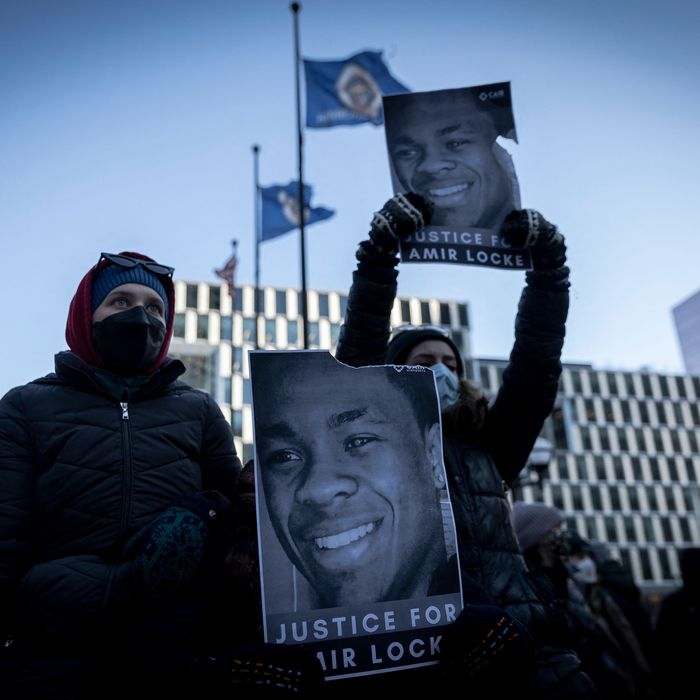 Photo: KEREM YUCEL/AFP via Getty Images
Earlier this year, protesters gathered in Minneapolis, once again demanding justice for a young Black man killed by the police. Amir Locke, a 22-year-old man, died on February 2 after being shot by SWAT officers during the execution of a no-knock warrant. Locke was not named in the warrant itself, nor was he a suspect in the case being investigated, and a lawyer for his family said that he was in the apartment staying with a cousin.
In the wake of the shooting, Minneapolis mayor Jacob Frey put a pause on no-knock warrants in the city, and on April 5, Frey ordered an end to most unannounced search warrants. Shortly after Locke's killing, Hennepin County Attorney Michael Freeman's office and Minnesota attorney general Keith Ellison began their review of the incident, the results of which they announced two months later, on April 6. The officer who shot Locke will not face criminal charges, Ellison and Freeman said in a joint statement, because they found "insufficient admissible evidence to file criminal charges in this case."
Amir Locke was shot and killed during the execution of a no-knock warrant, despite not being a suspect.
On Wednesday, February 2, police entered a Minneapolis apartment just before 7 a.m. on a no-knock warrant. "Approximately nine seconds into the entry, officers encountered a male who was armed with a handgun pointed in the direction of the officers," read the initial press release from the Minneapolis Police Department. "At one point, shots were fired, and the adult male suspect was struck. Officers immediately provided emergency aid and carried the suspect down to the lobby to meet paramedics." The original release also announced an independent investigation from the Minnesota Bureau of Criminal Apprehension and included photos of the gun the "male suspect" was allegedly pointing at the officers. He was later identified as Amir Locke.
The warrant was reportedly issued in relation to a homicide case in Hennepin County and related to three areas in the apartment complex where Locke died. The officer who shot Locke has since been identified as Officer Mark Hanneman. He was placed on administrative leave pending an investigation.
Body-cam footage shows some inconsistencies with the original police report.
On February 4, the Hennepin County medical examiner released its official findings, ruling Locke's death a homicide, and the Minneapolis Police Department released body-cam footage from the shooting. The short video released includes the first ten or so seconds of the raid, ending abruptly after the shots are fired. The officer who shot Locke appears to be just out of frame, and the moments just before the shooting have been slowed down at multiple speeds. The video shows police entering the apartment, announcing their presence only when they have already entered safely. Once in the apartment, one officer kicks the couch where Locke was sleeping, prompting him to wake up, seemingly confused. Wrapped in a white blanket, Locke appears to be holding a gun, but not pointing it at any officers in the frame. It does not seem that Locke even knew he was being surrounded by police.
Attorney Ben Crump released a statement on behalf of the Locke family relating the video to the death of Breonna Taylor, who was killed during a similar no-knock warrant. "Like the case of Breonna Taylor, the killing of Amir Locke shows a pattern of no-knock warrants having deadly consequences for Black Americans," Crump said, via NPR.
Crump also clarified that Locke "legally possessed a firearm at the time of his death."
Amir Locke's parents confirm Locke was a legal gun owner.
According to his family, Locke was an aspiring musician, on the brink of a move to Texas, where he would be closer to his mother. After the shooting, his parents subsequently confirmed that he also owned a legal firearm. Speaking with Don Lemon on CNN, Karen Wells, Locke's mother, said that her son "made sure that he did his research, everything was going to be legal." Wells also added that she worried about Locke owning a gun specifically because of what the police might do if they saw him with it.
Locke's father, Andre Locke, also spoke out at a press conference, saying, "It hurt me to see my son executed." Referencing the body-cam video, he added, "He never even got the chance to get the cover off his head. He was startled. He did what any reasonable law-abiding citizen would do. White or Black." He also said that they had many family members who were law enforcement, saying, "We're not against police officers. We just want accountability."
Minneapolis mayor Jacob Frey initially placed a "moratorium" on no-knock warrants — with exceptions.
Following the release of the body-cam footage, Mayor Frey announced that the city would be pausing all no-knock warrants to allow for a thorough review of the MPD practice. The review will reportedly be headed by Professor Pete Kraska and DeRay Mckesson, both of whom helped craft Breonna's Law, which helped outlaw no-knock warrants in Louisville, where Taylor was killed. "No matter what information comes to light, it won't change the fact that Amir Locke's life was cut short," Frey said in a statement, adding that "until a new policy is crafted, I'm issuing a moratorium on both the request and execution of such warrants in Minneapolis."
Minnesota governor Tim Walz also issued a statement supporting a potential review of the policy. "To ensure the safety of both residents and law enforcement, we need to make additional changes to policies and practices regarding the execution of search warrants," Walz said.
Other government officials called for more permanent change. State Senator Omar Fateh told the Daily Beast at a protest that he hoped to end the no-knock practice once and for all across the state. "I'm hoping with this break-in and murder that we witnessed on-camera, I hope we can at least ban no-knock warrants." And Representative Cori Bush actively called on the Senate to act on no-knock warrants, noting that in the two years between Taylor and Locke's deaths, "the Senate didn't even bring the bill to ban no-knock warrants to a vote." She added, "The whole system is guilty."
As for Frey's temporary moratorium, the mayor replaced it with a new order on April 5. Starting on April 8, Minneapolis police officers will not be allowed to execute unannounced searches or apply for the warrants. In all but "exigent circumstances" — during a chase, when they perceive imminent harm, to render first aid, to prevent the destruction of evidence, or to stop a suspect from fleeing — police will have to knock and announce themselves, then wait 20 to 30 seconds before entering a residence, depending on the time of day. Drugs do not rise to the level of "exigent circumstances" under the new policy.
The no-knock warrant that resulted in Locke's death was originally a knock warrant.
The no-knock warrant that led to Locke's death has been called into question, not only because activists have long been criticizing the practice, but also because the warrant was not supposed to be a no-knock at first. According to KARE 11 News, the St. Paul police that initially asked for a warrant did not request a no-knock. It was the Minneapolis Police Department that reportedly changed the request when it was asked to execute the warrant.
Interim Minneapolis police chief Amelia Huffman initially told reporters that both warrants were obtained "so the SWAT team could assess the circumstances and make the best possible decision." A spokesperson for the city of Minneapolis later told CNN that the Minnesota Bureau of Criminal Apprehension would be investigating what "imminent threat" might have been used to justify this no-knock warrant.
In a statement, Crump and fellow attorney representing the Locke family Jeff Storms reacted to the news, calling the switch an "inexplicable, yet deliberate choice." The statement continued in part, "It's past time that the Minneapolis PD be transparent and accountable to Amir's family and the community that they are sworn to protect. No-knock raids at the hands of law enforcement continue to take the lives of innocent Black people."
The officer responsible for Locke's death will not be charged.
On April 6, Ellison and Freeman announced their ultimate decision not to charge Officer Hanneman. Calling Locke's death a "tragedy" and calling into question the warrant itself, they concluded that Hanneman's use of deadly force aligned with Minnesota law. According to their interpretation of the body-cam footage, the sleeping Locke's gun "was pointed in the direction of at least one officer," which they said "constitutes a specifically articulable threat." In other words, they believe Hanneman had reason to believe the situation presented the threat of death or serious harm, particularly in the context of a homicide investigation. Nonetheless, Ellison said of the decision, "Amir Locke's life mattered."
"Amir was not a suspect," Ellison continued, acknowledging the error in Locke's original classification. "Amir was a victim. He never should have been called a suspect." Still, he added, "We are not allowed to evaluate the case from the perspective of the victim. With all the available evidence, we would not be able to prove in court that the officer's use of force was not authorized under the law beyond a reasonable doubt. It would be unethical for us to file charges in a case in which we know we will not prevail because the law does not support the charges."
According to the Associated Press, Locke's mother Wells is "disgusted" by this conclusion. In her remarks on the announcement, she addressed Hanneman specifically: "This is not over. You may have been found not guilty, but in the eyes of me, being the mother who I am, you are guilty. And I'm not going to give up. Continue to have your restless nights, because I know you do … Because the spirit of my baby is going to haunt you for the rest of your life."
This article has been updated.