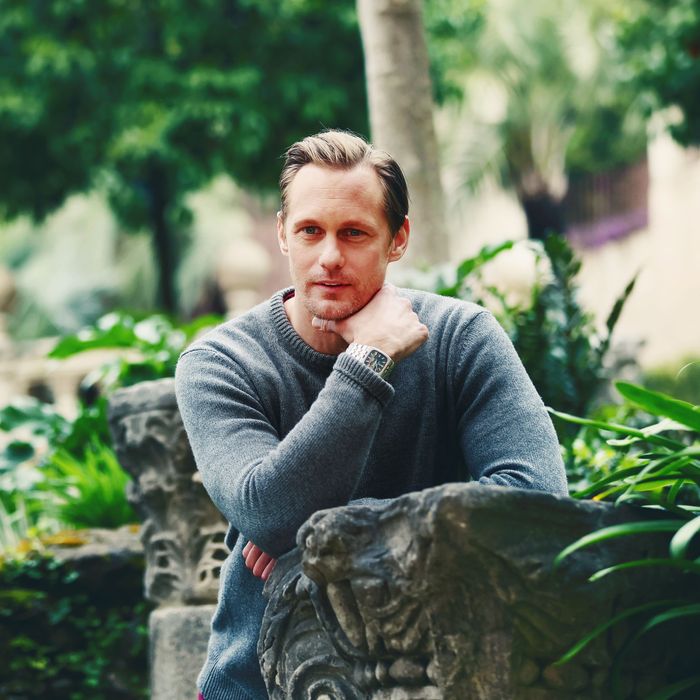 Photo: Ernesto Ruscio/Getty Images
Does this man look like a serious actor to you? Or just a pretty face? Apparently, Hollywood once thought this man was too hot to be taken seriously as an actor: Alexander Skarsgård recently divulged that he believes he used to have trouble booking roles as a result of being extremely good-looking.
In an interview with The Sunday Times, Skarsgård said that being "tall and blond" (i.e., Swedish) may have gotten in the way of his career. "I was on a stupid 'sexy hunky hot list,'" he said, "and then people didn't take me seriously. If you want characters with depth but have been labeled 'a dude who takes his shirt off,' you're not going to get those offers."
I'm sorry, what was that? A sexy hunky hot list? Is that a Google doc? And you're telling me you … don't want to be on it?
Surprisingly, Skarsgård is far from the first actor to complain about being sexy, hunky, and hot. Beloved hunks Chris Hemsworth, Rob Lowe, and Channing Tatum have all expressed similar sentiments. The recent spate of pretty actors piling plastic onto their faces to look substantially less pretty onscreen could also be taken as evidence that at least some people believe being hot gets in the way of Real Acting.
Skarsgård managed to overcome this disadvantage, mainly by winning an Emmy, Golden Globe, SAG Award, and Critics Choice Award for his role as an abusive (and, not coincidentally, very good-looking) husband in Big Little Lies. He's also appeared on Succession, a show whose star likened acting to "execution," and most recently played a Viking on a mission to avenge his mother's death.
So yes, he's been busy. In the same interview, he also confessed to nearly running over Greta Thunberg on his bike while she was protesting in Stockholm, an experience he apparently drew on in order to play a murderous Viking. "Greta is like a modern–day Viking," he said, and "like Greta, the Vikings refused to fly." This, I can only presume, is a simile that only sexy, serious actors can understand.