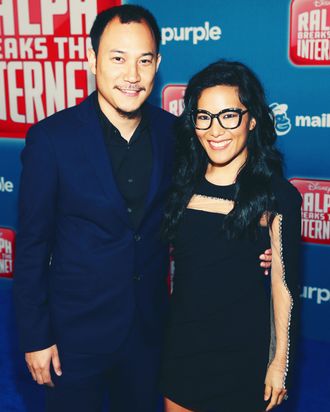 Neither of these people is Randall Park.
Photo: Jesse Grant/Getty Images for Disney
Earlier this week, People confirmed that comedian Ali Wong and her husband, the entrepreneur Justin Hakuta, are getting divorced. Making already bittersweet news worse, at least two media outlets used a photo of Asian American actor Randall Park when writing about the separation, mistaking Park for Hakuta.
To be clear, though Park played Wong's love interest in the rom-com Always Be My Maybe, they have never been married. Also Justin Hakuta is, of course, not the same person as Randall Park. There are many, many Asian men, and not all of them are married to Ali Wong.
Both MSN and Parade are among the outlets that mistakenly used a picture of Park instead of Hakuta. Parade's incorrect photo showed Wong and Park at the Always Be My Maybe premiere. There are photos of Wong and Hakuta from the same event. "In their defense," tweeted Dr. Esther Choo, an Asian American physician, "Justin Hakuta and Randall Park were both Asian on the same night this one time."
MSN arguably made the more egregious error, using a photo of only Park in a since deleted tweet that read, "Ali Wong and husband Justin Hakuta divorcing after 8 years of marriage, reports say." To be clear, once again: Randall Park is neither Justin Hakuta nor Ali Wong. Both publications have since updated their articles to show an image of Wong and Hakuta. Parade issued an apology to "Ali Wong, Justin Hakuta, Randall Park, and anyone who may have been hurt by our error."
In case any media outlets need it, here is a foolproof way to make sure you are using the right Asian person in a photo: Google their name even once.