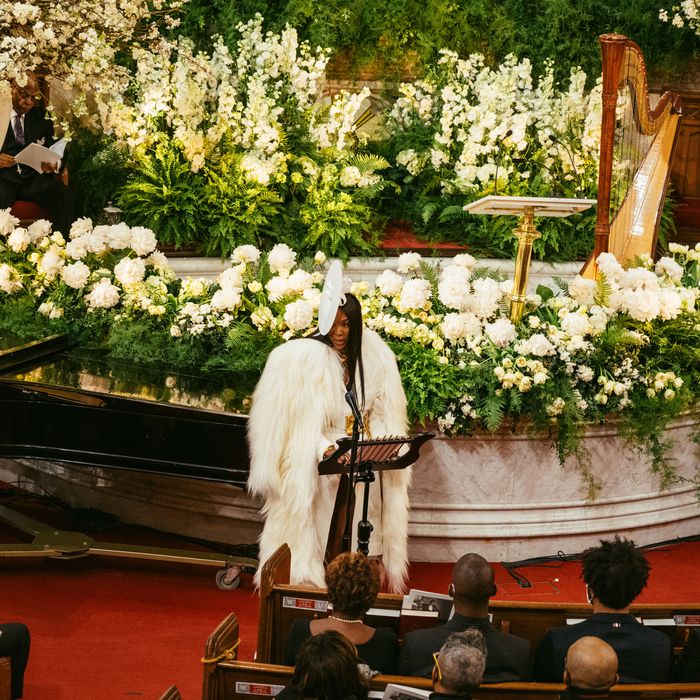 Photo: DeSean McClinton-Holland
André Leon Talley, the towering and often flamboyant fashion editor and author who died in January at the age of 73, was remembered today at a service at his church, the Abyssinian Baptist in Harlem. Held before an estimated crowd of 700 people, the service reflected how Talley kept ties with his family in North Carolina and many childhood friends as he navigated and eventually rose to the top of the fashion world. Among the speakers were Marc Jacobs, Anna Wintour, Diane Von Furstenberg, Carolina Herrera, and Naomi Campbell. Yet throughout there were references to other influences in Talley's glittering orbit, including Karl Lagerfeld, Oscar de la Renta, and Yves Saint Laurent. And a cousin, Brian Nunn, mentioned Talley's beloved maternal grandmother, Bennie Francis Davis, who raised him in Durham, North Carolina.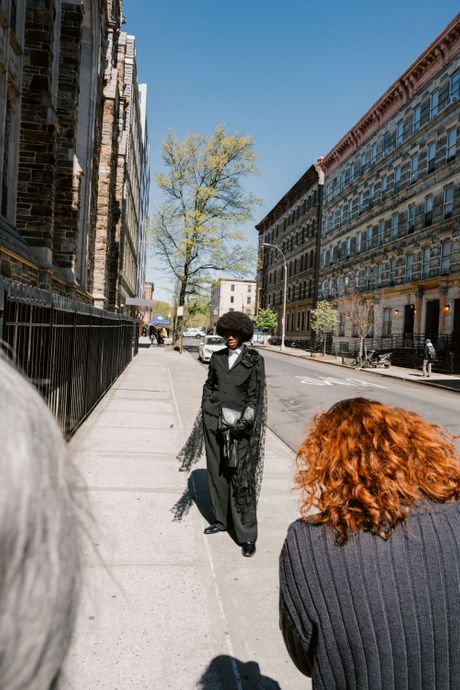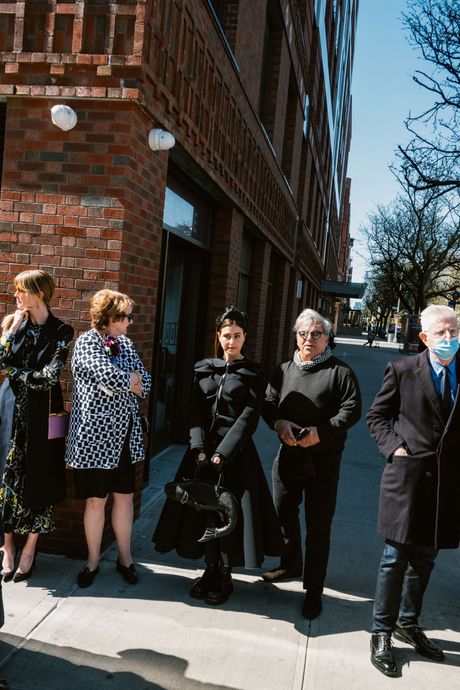 The tributes certainly gave a sense of the wingspan of Talley's life, indeed the complexity of his character. As the Reverend Dr. Calvin O. Butts, III, said, Talley could be ostentatious but he was also humble and quiet. "He never left his roots."
Near the end of the two-and-a half-hour service, Butts recalled a photo of the sanctuary taken at the lavish funeral of Adam Clayton Powell Sr.'s daughter, Blanche. "But today I think we run rival to that with this display of flowers, which is fitting for the opulence and often arrogance of [Andre's] life," the pastor said. The sanctuary blazed with white flowers — two huge urns of flowering branches, a thick bank of fully flushed peonies, and stalks of delphinium. The flowers virtually framed the Abyssinian Baptist choir, who were some 40 strong and magnificent. They sang not only hymns and spirituals, including "Down by the Riverside," but also pop standards, including "What's Going On" and "Reach Out and Touch Somebody." They ended with "Amazing Grace."
Talley apparently did not want a memorial service, but given his high standards, his love of pomp and glamour, and his sense of humor as well as soul, he surely would have been pleased with both the handling of his life story and the turnout. Among those present were Zac Posen, Ralph Rucci, Norma Kamali, Sandra Bernhard, Amanda Harlech, Veronica Webb, Kimora Lee, Candy Pratts Price, Hamilton South, Hamish Bowles, Grace Coddington, Elizabeth Saltzman, Paul Wilmot, Rachel Feinstein, Bob Colacello, Sam Shahid, Edward Enninful, Pat McGrath, and Bethann Hardison, who spoke.
"I was 13 years old when I first discovered the revelatory image of André Leon Talley in a 1976 issue of Interview magazine," Jacobs began, his voice often breaking. "He was dressed in a jaunty fedora with a striped shirt, his sleeves rolled up … and slung across his chest was this incredible Elsa Peretti belt, while his hand held the switch of a huge fan. That photograph left an indelible impression on me. He was so chic and sure, important, special, and unique. I could never have imagined that such a pillar of the fashion world would one day become a dear, loyal, and caring friend to me."
Inevitably, someone would have to mention Talley's over-the-top mode of self-expression, which included personal notes and faxes in gigantic type — and Jacobs did. The laughter across the church suggested that many had received his missives. With the invention of email, Jacobs noted, "André found his own boisterous expression with his use of font, styling, color, scale and such." There was always an emphasis and urgency, he added, about what must be heard. Jacobs said he has letters and post-show notes from Talley that go back decades.
Jacobs continued, "I have many, many cherished moments with André, like a trip to Moscow, when he got detained at customs following Naomi's advice" — he paused to look at Campbell, who was decked out in ivory — "that a visa was not required."
"André rolled his eyes, he raised his eyebrows as he glamorously dwarfed the miserable, tiny fiberglass chair with his brown velour tracksuit dripping in Louis Vuitton monogram mink, as the customs officer looked at him and said, 'Nyet.'"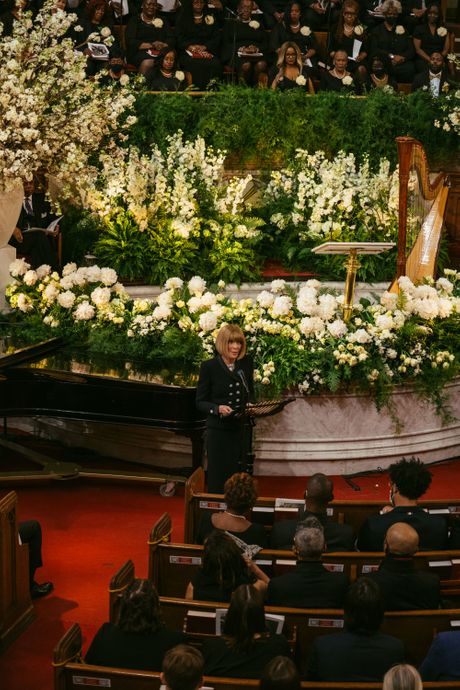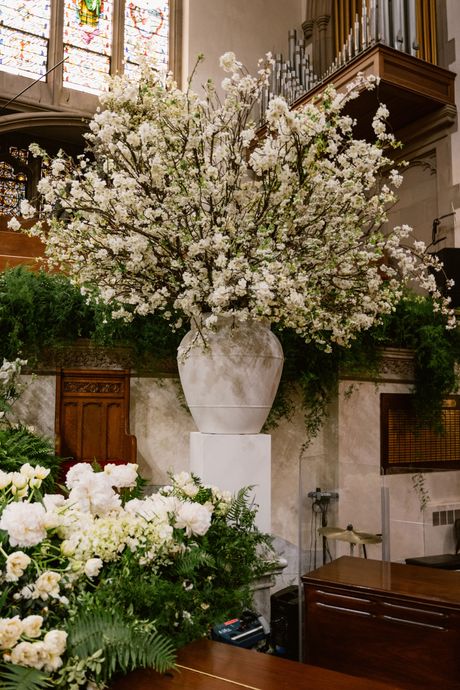 Wintour, who came to the service with her two children, recalled meeting Talley for the first time in 1983, when he was Vogue's fashion-news editor. "He was impossibly chivalrous, impossibly opinionated, and of course impossibly tall," she said. "Like everyone, I was both in awe of him and swiftly caught up in his world … Karl, Oscar, Yves, Diane. And those were just the people who would call him before lunch … It seemed to me he was more connected than the queen."
With her voice often breaking, Wintour acknowledged that Talley was "decades ahead" in terms of pushing for more diversity and points of view in the upper ranks of fashion, where the "gates had long rusted shut." In a remark that rang especially true, she said, "That's when I sometimes felt that André was on his own. I always thought that his solitude was based in strength. He knew what had to be done and he had the courage to do it …That is the definition of leadership."
Wintour gave a sense of the deep bond between her and Talley, even if in later years he was publicly and harshly critical of her. "I will never forget André crossing the Atlantic to be with me at my mother's funeral, when my husband and children were stranded in New York because of a blizzard," she said. She recalled summer weekends they spent together at her home on Long Island.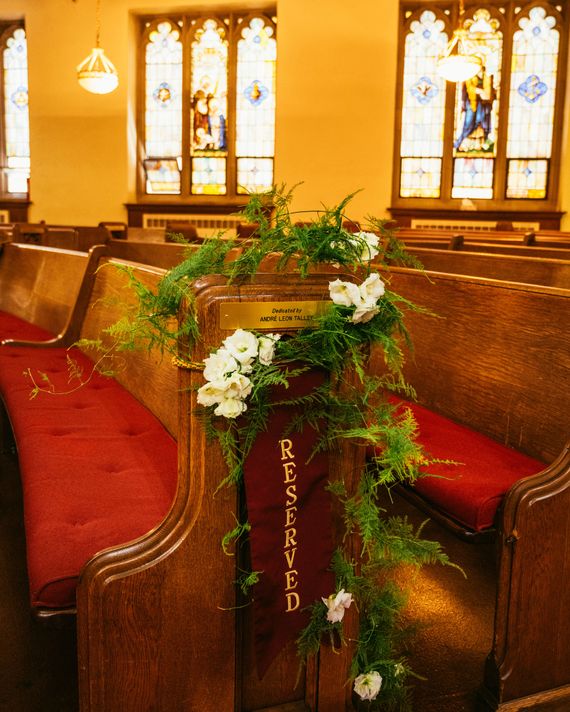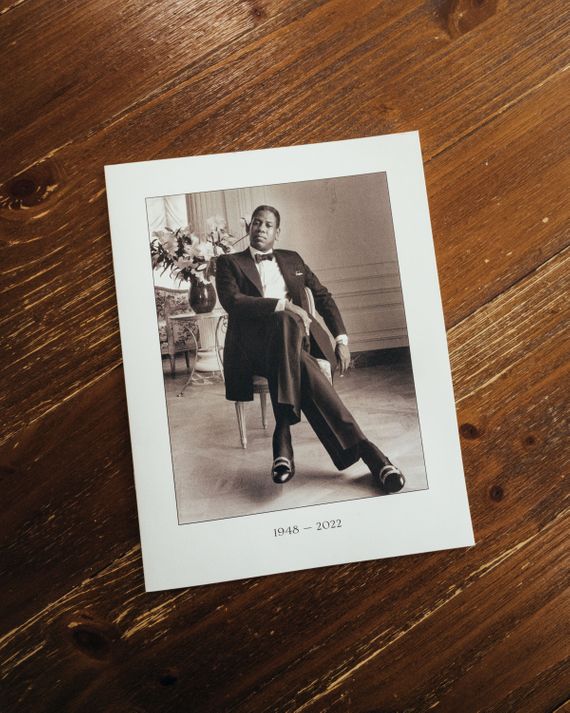 "He changed my life in ways I couldn't have imagined … He taught me to see fearlessly and to see from the heart. I miss him in moments of sadness but most of all in moments of joy."
The tributes came between uplifting, hip-swaying blasts from the choir, with Alexis Thomas, a church deacon and the chairwoman of its board, noting that Talley had left his intellectual property to the church.
Campbell, who wore a white cartwheel hat pinned to the side of her head and a fluffy, broad-shouldered ivory shrug over an elegant suit, recalled moments when Talley had "showed up" for her — to support a charity, to join her on a trip to West Africa.
"'Luxury,' he once said, 'is to be able to take control of one's life, health, and happiness,'" she said. "Yes, we had better put on our best dress and not hesitate to go over the top." Campbell paused with impeccable timing and smiled. "Hence my dress today." The applause and laughter rang throughout the church.