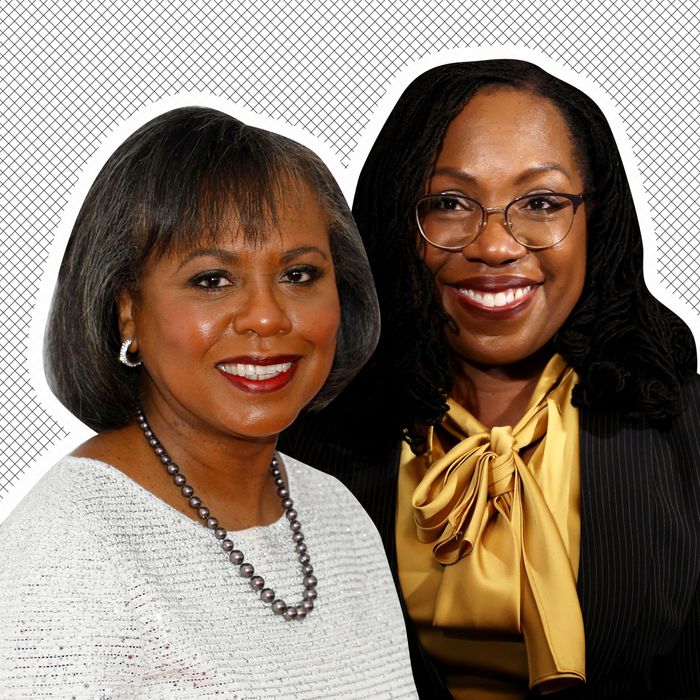 Anita Hill and Ketanji Brown Jackson.
Photo-Illustration: by The Cut;Photos: Getty Images
The Senate confirmed Ketanji Brown Jackson to the Supreme Court on Thursday — an appointment that was effectively guaranteed to go through and became bogged down in extremist criticism anyway. Jackson is a historic nominee, the first Black woman and the first former public defender to sit on the bench. Her previous appointments to federal courts secured support from congressional Republicans. And yet, despite her qualifications, the Senate hearings required to confirm her still devolved into a "shameful spectacle," as law professor Anita Hill put it in an op-ed for the Washington Post.
"I know something about being mistreated by the Senate Judiciary Committee," wrote Hill, who weathered humiliating and highly personal attacks during Justice Clarence Thomas's confirmation. Hill testified that Thomas sexually harassed her repeatedly when she worked for him, then threatened her with professional ruin if she ever told anyone about it. She was consistent and unemotional in her statements, but the hearings still seemed to become more about discrediting Hill than weighing Thomas's fitness for the position.
The makeup of the committee has changed somewhat since then, Hill acknowledged in her op-ed, but due to her own personal experience, she didn't buy the idea that a Democrat-controlled chamber would usher in Jackson with little resistance. "Even so," she wrote, "I was shocked by the interrogation of Jackson, a nominee with stellar credentials and more judicial experience than any of the sitting justices when they were nominated. It was obvious that no matter how composed, respectful or brilliant her responses, her critics' only goal was to discredit her."
Jackson received bipartisan support for three other appointments — to the U.S. Sentencing Commission, the U.S. District Court for the District of Columbia, and most recently, the U.S. Court of Appeals for the D.C. Circuit — but tellingly, Republicans reserved their wildest accusations for the biggest job. Ted Cruz zeroed in on critical race theory, trotting out a series of children's books and accusatory questions about whether or not Jackson thinks "babies are racist." Josh Hawley represented the QAnon contingent, painting Jackson as an apologist for child porn and sex abuse, a line Lindsey Graham eagerly picked up and ran with. Marsha Blackburn pestered Jackson to "define a woman," haranguing her about whether she believes "schools should teach children that they can choose their gender?" Their off-the-wall interrogation continued for days, and conservative senators never seemed satisfied with Jackson's measured and patient responses.
The contrast points to a clear takeaway. Even though Republicans would not be able to stop Jackson's nomination from going through, even though many of them — Graham, for example — had voted for her before, they chose to tear into a historic candidate seemingly for the hell of it, or for the base, and certainly because she is a Black woman. The spectacle also underscored the futility of confirmation hearings, which are supposed to proceed like a "job interview," but rarely do. "A confirmation hearing should be about learning how a person will judge, not how well she handles specious browbeating," Hill wrote in her op-ed. That she handled it well — far better than, say, Brett Kavanaugh, who confronted questions about his alleged history of sexual predation and assault with open, spitting rage — was never going to make a difference to Republicans now looking for reasons to discredit her.
"This is not simply about Jackson's reputation, which was repeatedly smeared by Republican senators peddling false narratives about her supposed coddling of child pornographers and terrorists. It is about the legacy and future of the Senate and the Supreme Court itself," Hill wrote. "The confirmation process is broken and the panel must act to restore people's faith in it."