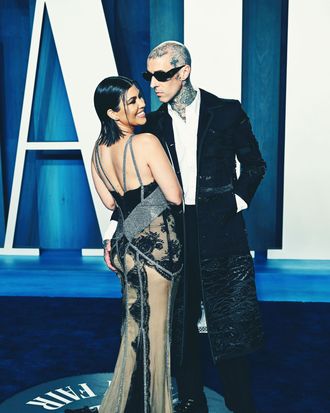 Photo: Daniele Venturelli/WireImage
Horny couples everywhere woke up to huge news on Tuesday morning: Kourtney Kardashian and Travis Barker had reportedly gotten married in Vegas after Sunday night's Grammy Awards. Turns out, though sources say they had a ceremony around 1:30 a.m. on Monday morning, they still aren't legally married. Kourtney confirmed this confusing turn of events on Instagram Wednesday, where she posted a series of photos from the night and confessed that, actually, this one was just for practice. I guess their appreciation for pranks goes beyond TP-ing each other's houses?
Apparently after "an epic night and a little tequila," these two tracked down a chapel and an Elvis impersonator to officiate this non-legally binding ceremony because "practice makes perfect." From the looks of it, there was a characteristic amount of black leather and PDA on display. Also: sequinned crosses. According to the owner of One Love Wedding Chapel, the couple refused to commit to the spot until he confirmed Elvis would be on hand to officiate. They also bought a bunch of roses (though probably not as many as they had at their engagement?) to toss on the ground once they were "married," which fans have apparently been stopping by to touch.
Kourtney was confronted about this little marriage scam on Jimmy Kimmel Live Wednesday night, when she claimed that she and Travis wanted to be legally wed but that it impossible for her, a member of one of the most influential families in America, to get a marriage license at 2 a.m. in Vegas — a city famous for granting marriage licenses to drunken strangers at the drop of a hat. "There was no, like, possibility to get a marriage license at that hour," she said. She also took issue with Kimmel referring to the stunt as getting "fake married," saying, "It's what's in the heart."
I was more than ready to believe that Kravis did indeed get hitched — and not just because a late-night Vegas wedding feels perfect for them. Kourtney and Travis got engaged in October after several months of touching tongues and a hefty infusion of Hot Topic into Kourtney's wardrobe. This will be Kourtney's first marriage, though she shares three children with her ex Scott Disick, who has made his thoughts on this coupling clear. Travis has two kids with his ex Shanna Moakler (who's also not thrilled with his current relationship), so it seems safe to assume that plenty of blended family shenanigans lie ahead.
Speaking of shenanigans, the trailer for Hulu's The Kardashians shows Kourtney and Travis trying to have a baby of their own, which would be an exciting addition to their rapidly expanding clan. (Does Hot Topic sell maternity clothes?)
Baby-making aside, TMZ says there are "several" nuptial events in store, one of which will presumably be legal (and, if I know anything about Kris Jenner, televised). We can also probably expect appearances from Kravis's partners in cringe, Megan Fox and Machine Gun Kelly. I, for one, cannot wait.
Given this event's goth-casual dress code, it seems like there are probably no wedding-dress photos to look forward to in the immediate future. But who knows! A metal-studded veil could be in the works as we speak.
This post has been updated.