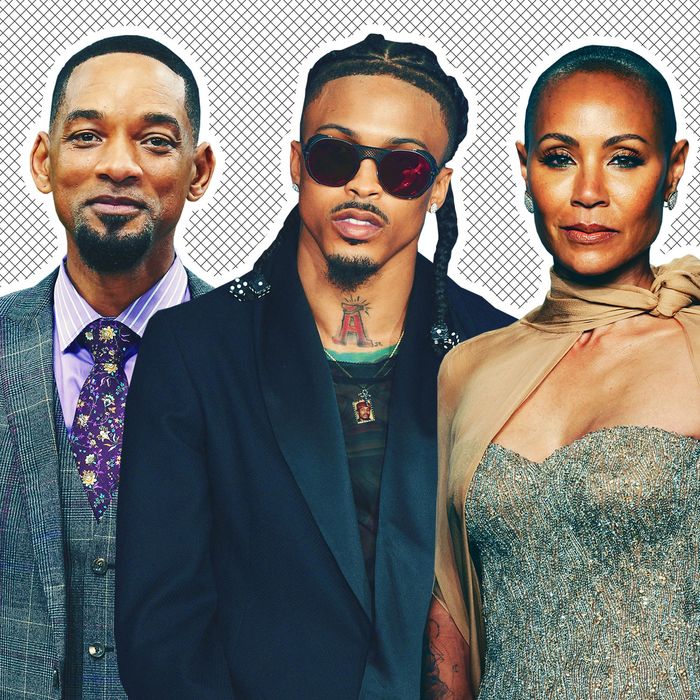 Illustration: The Cut; Photos: Getty Images
Is now a good time for August Alsina to join the discourse? No? Oops, too late. In the wake of the now-infamous Slap, the singer has released a new song called "Shake the World" which appears to allude to his relationship with Jada Pinkett Smith.
"Well, of course some shit is bound to go down when there's a billion dollars on the elevator," he sings, referencing Beyoncé's "Flawless" remix, which … bold. He continues, "Well, of course some shit is bound to go down when you tangled up with the world's favorite." And well, of course Alsina thought now was an apropos time to reference his famous entanglement with Jada Pinkett Smith.
If you need a refresher, in July 2020, Jada confirmed that she and Alsina had a relationship while she and Will were separated. Jada made the announcement after Alsina did an interview with The Breakfast Club to promote his latest album … and talk about his relationship with Jada. He claimed he had Will's blessing. Jada says that wasn't true. Either way, we were all blessed with the word "entanglement."
This isn't the first time Alsina has referenced his relationship with Jada in a song. In 2019, before news of their relationship went public, Alsina released a remix to Kehlani's "Nunya." The video shows his Animoji messaging someone named "Koren <3." Hmm, who could that be? Anyway, did you know that Jada's full name is Jada Koren Pinkett Smith? Lest there was any confusion, Alsina uses an actual GIF of Jada in the video when he sings the lyric, "You got me feeling like it was an act, you're just an actress / Putting on a show 'cause you don't want the world to know." He later denied the song was about her, which … LOL.
Then a few months after Jada confirmed her relationship with Alsina during her Red Table Talk, he released a song with Rick Ross called "Entanglements." The man is not one for subtlety.
Neither Will nor Jada has responded to the song and it's unlikely that they will. Regardless, we can all agree that the Slap discourse is officially done now.