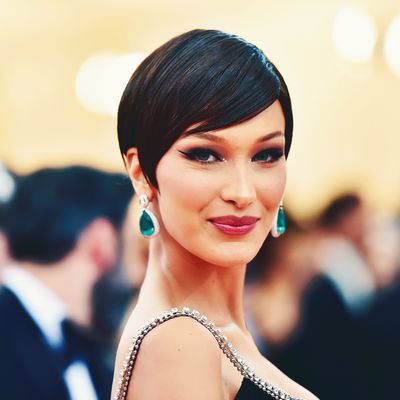 What if Bella Hadid … won an Emmy?
Photo: Theo Wargo/WireImage
Bella Hadid is adding a new job to her résumé, which currently includes being one of the highest-paid models in the world, co-founding a nonalcoholic drink company, kissing a CGI influencer that one time, and doing cooking videos on TikTok. That new job? Acting, obviously.
Hadid is joining the season-three cast of Ramy, Hulu's Emmy-winning series created, written, directed by, and starring Ramy Youssef. The series follows first-generation Egyptian American Ramy Hassan, played by Youssef, as he navigates his spiritual journey and balances life between the Muslim community and being a young adult in New Jersey. "In the third season," per Variety, "his family is forced to confront having lived a life dedicated to worldly concerns — and in some cases, lies — while Ramy all but abandons his spiritual journey, instead dedicating himself to him and his uncle's diamond business." Hmm, will Bella Hadid be a diamond baroness??
Hard to say. There currently aren't many details on the character Hadid, who is Palestinian, will play. According to Deadline, she'll be a recurring guest star on the show … and this concludes the confirmed information we have so far. Imagine if she played a fictionalized version of herself. A perfect role!
This is the first scripted acting gig for Hadid. However, it's an unsurprising gig, as she's previously spoken about her acting aspirations. In a 2017 interview with the Telegraph, she talked about wanting to give acting a try and that she hopes to win an Oscar "one day."
Of course, she'll need to be in a movie first. Perhaps she can play Bella Swan in a revamped version of Twilight. Or Bellatrix Lestrange in a revamped Harry Potter. As Hadid herself has said, she can be all the Bellas.