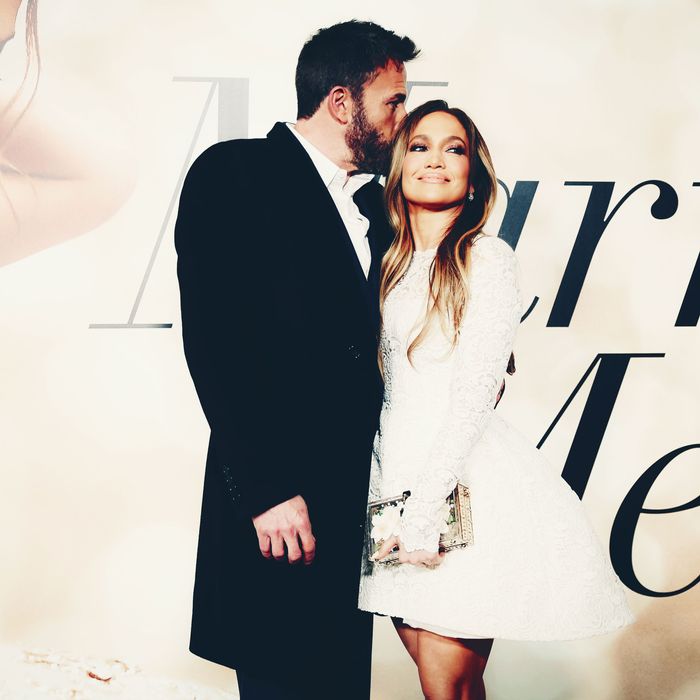 Photo: Rich Fury/WireImage
Like the rest of the universe, I was thrilled when I learned Bennifer was reengaged after a 20-year hiatus in their relationship. But just because I am happy that Ben Affleck and Jennifer Lopez have transported us all back to 2002 does not mean I need to know everything about the big proposal. In fact, I seriously wish I knew less.
After initially announcing her engagement last week on her private newsletter, On the JLo, Lopez shared even more details in another letter on Tuesday. "Saturday night while at my favorite place on earth (in the bubble bath), my beautiful love got on one knee and proposed." I'm going to stop it right there. J.Lo famously loves a good bath. In March, she shared her bathtime routine with her followers, including a video taken by Academy Award winner Affleck. So in theory, it's nice that he proposed somewhere so special to her. But while proposing in what I presume to be the nicest of their 17 bathrooms sounds sweet in this context, it's still … a bathroom.
"I was taken totally off guard and just looked in his eyes smiling and crying at the same time," Lopez continued. "I was quite literally speechless and he said, 'Is that a yes?' I said, 'YES of course that's a YES.'" Look, obviously I have no interest in finding out what exactly happened next between the freshly engaged couple. That is their business and (hopefully) theirs alone. However, now that I know Affleck proposed to Lopez while she was in the bath, I have many questions. What are the logistics of a bathtime proposal? Is one person just wet and naked and the other fully clothed? Was Affleck wearing shoes to propose in the bathroom? Did he get soaked, or was he also in the bath? I hate myself for asking, but what else can one do with this information?
Lopez didn't elaborate on the logistics, instead writing, "It was nothing fancy at all, but it was the most romantic thing I could've imagined … just a quiet Saturday night at home, two people promising to always be there for each other." I sincerely doubt there is anything about the Bennifer home that isn't fancy, but I'll let J.Lo. have this one. As long as she keeps other TMI details to herself.