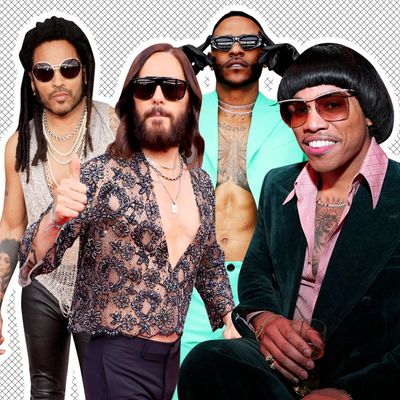 Beautiful, boys.
Photo-Illustration: by The Cut; Photos: Getty Images
For those of you who missed last night's Grammys ceremony, here are the CliffsNotes: It was a big night for kissing with tongue and white men in reggae and mondo Crocs and the color pink. But the real winner, across basically every category, was bare male chests, with an assist by sprinklings of wispy hairs waving gently in what I imagine to have been a breeze. Lots of lads got their pecs out for the cameras, for which we salute them. And after Timothée Chalamet showed up utterly shirtless to the Oscars last week, one can only hope that what we have here is a burgeoning trend in men's fashion. Enough windup, though: Let's look at some chest.
Lenny Kravitz
Kravitz took home the award for Best Going-Out Top last night, thanks to his draped and cleavage-exposing neckline. But it was the heeled fashion boot and skinny leather pants that really made this an achievement in 2003 dressing. He then rounded out the evening with a performance in a catsuit he unzipped nearly to his crotch. Kind of him.
Travis Barker
In a look that feels familiar, Travis Barker wore a long black vest and no shirt to speak of as he licked the inside of his fiancée's mouth on the red carpet. Later on, he engaged in some fully shirtless drumming for the thirsty crowd.
Jared Leto
Why was the actor Jared Leto at Music's Biggest Night? Flashing his semi-nude torso, presenting an award, and promoting new music by the band he is in. Suspicious.
Anderson .Paak
.Paak and Bruno Mars won Record of the Year together, while .Paak won Best Tasteful Unbuttoning of Blouse all on his own. (Extra points for zipping a down fly onstage.)
Julian Primeaux
Still not convinced this man isn't a vampire named Vlad, but congrats to him on his medal.
Eric Bellinger
Honestly, I think Bellinger may be our winner, due to his bold refusal to even dabble in dress shirts. Let him be an example to his fellow nominees.